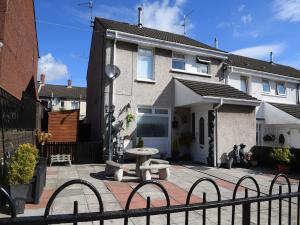 The house targeted in Cranbrook Court
By Q Radio News
Detectives are appealing for information following a shooting incident at a house in the Cranbrook Court area of north Belfast on Monday.

It was reported that a number of shots were fired through the living room window of the house shortly after 10pm.
There were no reports of any injuries and enquiries are continuing to establish the circumstances surrounding this incident.
Councillor Ryan Murphy condemned the incident.
He said:
"This was a particularly reckless attack on a home in Ardoyne tonight.
"A number of shots were fired into the home of a local woman and a young child.
"Thankfully no one has been injured in this cowardly attack but we could have been looking at a real tragedy here.
"Local people are shocked and disgusted by this shooting.
"I condemn those responsible unreservedly and urge anyone with information on this shooting to bring it forward to the police.
Investigations are continuing after a number of shots were fired through the living room window of a house in north Belfast. It happened in the Cranbrook Court area around 10pm last night, It's understood a woman and young child were in the property at the time, pic.twitter.com/VxS6hG0Xkc

— Q Radio News (@qnewsdesk) July 21, 2020
Meanwhile,
There are also reports of two incidents involving firearms in the Craigavon area.

One in Portadown and the other at Aghagallon near Lurgan.

MLA and policing board member Dolores Kelly lives in the village.

She says a man with a suspected weapon was apprehended by police who'd been called to a disturbance...
Meanwhile,
Assembly member for Upper Bann Doug Beattie says a weapon was pointed at a car before police tackled the suspect...
There are reports of two incidents involving firearms in the Craigavon area. One in Portadown and the other at Aghagallon near Lurgan. Assembly member @BeattieDoug has been speaking with Q Radio. pic.twitter.com/wxSDM2jf3o

— Q Radio News (@qnewsdesk) July 21, 2020