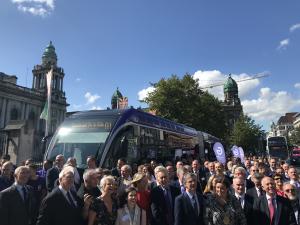 Translink and community representatives at the City Hall on Friday
By Simon Hunter
Translink's Chief Executive says the new Glider bus service is as much about cultural change as technological advance.
The brand new mode of transport in Belfast had its official launch on Friday-before it's rolled out on Monday.
It aims to connect the east and west of the city, as well as the popular Titanic Quarter, via the city centre.
Officials hope it'll encourage more people to ditch the car and take the bus.
Chris Conway's told Q Radio the aims are to improve travel efficiency, ease congestion and reduce pollution.
Speaking at Belfast City Hall, Chris went on to say,
"Glider is the new face of public transport in Belfast. The Eco Hybrid vehicles will help improve air quality in the city and can each carry up to 105 passengers, offering convenient features like free Wi-Fi and USB charging facilities.
The new off-board ticketing system will facilitate faster journeys and offer the same excellent value tickets as Metro.
"Today marks the culmination of years of research, planning and development and I'd like to thank the Department for Infrastructure for the leadership necessary to deliver this major project, also Belfast City Council and the many stakeholders who have worked with us to deliver Glider for the City of Belfast.
"I'd like to pay tribute to everyone for your interest, enthusiasm, patience and support. We now look forward to welcoming all our customers on board their new Glider service from Monday."
The sun came out for the launch of #GliderBelfast at City Hall today! We're on the countdown to going live on Monday! @DeirdreHargey @HeadNICS #Infra2018 #ComeGlideWithUs pic.twitter.com/WpKKT4RqS9

— Translink (@Translink_NI) August 31, 2018
Meanwhile, David Sterling, Head of the Northern Ireland Civil Service said, "The Belfast Rapid Transit Glider service is all about customers and connectivity. It offers an enhanced customer experience and a joined up service."
The Lord Mayor of Belfast, Councillor Deirdre Hargey, said: "The introduction of the Glider is good news for Belfast and for Belfast City Council – it will help us as we work to achieve the aims of our Belfast Agenda the long-term development plan for the city."
Some of our favourite landmarks have gone violet Violet! Looking good @TitanicBelfast @belfastcc
#GliderBelfast #TicketToGlide #ComeGlideWithMe ^JC pic.twitter.com/EC9sZLoX9g

— Translink (@Translink_NI) August 31, 2018