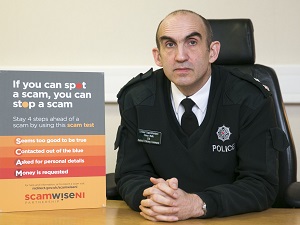 Chief Superintendent Simon Walls
Q Newsdesk
A woman in her 70's has narrowly avoided being conned out of £107,000 after falling victim to a scam.
The County Down pensioner was looking for investment opportunities online, and transferred the money to what she thought was a real company.
She then became suspicious about the man she had been corresponding with and contacted police.
Chief Superintendent Simon Walls says officers were able to intervene before it was too late..
He continued, "This is a massive relief for this woman who had wanted to use her hard earned savings for her future but, thankfully, it appears we have thwarted an attempt by a scammer to get away with what is a huge amount of money. "
"I want to thank the woman for having the courage to tell us about what happened to her, as often people who are targeted in scams are embarrassed to come forward, however, this is an example of why it is so important to tell police and to tell us quickly."
"Unfortunately, this shows there are still unscrupulous individuals who often look legitimate, and operate increasingly sophisticated scams, who get up every day and set out to con people out of their money."
"I want to take this opportunity to appeal people to be vigilant. Fraudsters know all the tricks and you can never be too cautious."