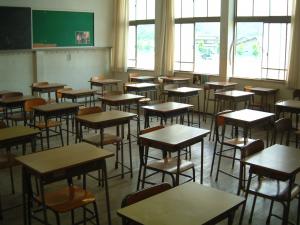 £4m worth of funding has been made available to schools
by Stewart Robson
Sixteen schools across Northern Ireland are set to benefit from millions of pounds worth of funding to allow improvement works to take place.
It's part of the School Enhancement Programme which provides money for refurbishments or extensions.
Projects are estimated to cost between £500,000 and £5m.
Permanent Secretary, Derek Baker, said: "This is a significant investment in our schools estate with a further 16 projects now progressing to planning stage. The School Enhancement Programme continues to provide much-needed improvements and new accommodation for the benefit of our young people and staff.
"Continued investment in our schools estate is essential if we are to help support our teaching staff to deliver a quality education to our children and young people."
The 16 schools who have been informed their applications have been approved to planning stage are as follows:
Primary schools
Antrim Primary School
Ballyclare Primary School
Dungannon Primary School
Fairview Primary School, Ballyclare
Glengormley CI Primary School
St Brides Primary School, Belfast
St Joseph's Primary School, Belfast
St Mary's Primary School, Newtownbutler
The Thompson PS, Ballyrobert
Post-primary schools
Dominican College, Portstewart
Methodist College, Belfast
St Columbanus' College, Bangor
St Mary's Christian Brothers' GS, Belfast
St Patrick's & St Brigid's College, Claudy
Special schools
Kilronan School, Magherafelt
Lisanally School, Armagh
The Controlled Schools' Support Council also welcomed the news.
Chief Executive Barry Mulholland said, "Investment in the schools' estate is essential to support high quality education for all pupils and CSSC very much welcomes that £40million is to be made available to these 16 projects, including eight controlled schools.
"The School Enhancement Programme is a cost effective way to enable schools to improve their facilities and I look forward to learning more detail about the projects that will now progress.
"While this £40million investment is good news, current levels of capital funding continue to be insufficient to support much needed improvements to other schools in Northern Ireland. The Department of Education's efforts in securing any and all additional capital resources is much appreciated.