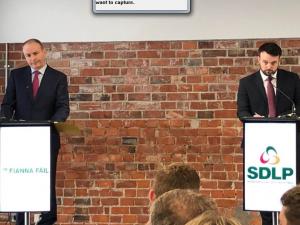 Fianna Fáil leader alongside SDLP leader Colum Eastwood
by Q Radio News
Nationalist parties north and south of the Irish border have launched an "historic" partnership aimed at unfreezing the Stormont deadlock.
The SDLP and Fianna Fail proclaimed it a step towards breaking the cycle of "vacuum and division" which had failed people in Northern Ireland during the two years since political powersharing collapsed.
Fianna Fail is a larger southern party which its leader Micheal Martin said would give electoral resources and know-how as the SDLP bids to bolster faltering fortunes north of the border.
A merger to create an all-island party is not currently envisaged but Brexit has prompted republican calls for a referendum on Irish unity after a majority in Northern Ireland voted to remain in the EU alongside their southern neighbours.
SDLP leader Colum Eastwood said: "Without doubt this partnership marks an historic moment for both the SDLP and the Fianna Fail parties.
"Far more importantly though, I hope and believe it marks an important contribution in finally breaking the cycle of vacuum and division which has failed people over the last two years."
When Q Radio asked Mr Eastwood, why the parties decided not to merge, he said he felt it would have been "gimmicky":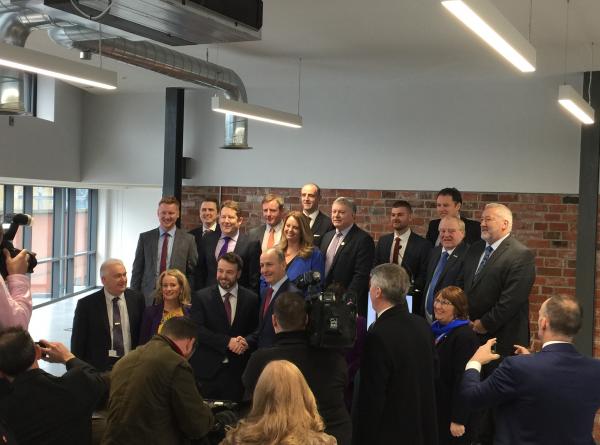 (Both SDLP and Fianna Fáil party members in Belfast this afternoon announcing the partnership)
The SDLP has lagged behind Sinn Fein in the polls in recent years.
It has no representation at Westminster and 12 members of the 90-strong Stormont Assembly in Belfast.
It promised a partnership with Fianna Fail based around shared policies on issues like Brexit and Irish unity.
Stormont has been becalmed amid a row between former powersharing partners Sinn Fein and the DUP.
Mr Eastwood said his partnership aimed to restore public faith in politics.
"Our parties are determined to work together to try and change the failure our politics lies frozen in."
He said they would focus on policies and issues, not "sectarian positioning" and anticipated an unprecedented programme of public engagement.
Fianna Fail are an opposition party in the Irish Dail Parliament.
They are in a confidence and supply agreement to support Ireland's minority coalition Government after decades in which they were the dominant political force in Irish politics.
When questioned on plans for the future regarding a possible merger between Fianna Fáil and the SDLP, both leaders Michaél Martin and Colum Eastwood said they're only focused on what's happening now: pic.twitter.com/tuuoc3z4qy

— Q Radio News (@qnewsdesk) January 24, 2019
Fianna Fáil leader, Michaél Martin ruled out standing candidates in Northern Ireland at this time but said backing for closer ties was clear amongst his parliamentary colleagues.
He said: "This is the journey we are on; this is the decision we have taken."
He promised to support SDLP election campaigns, starting this spring when local Government contests are due.
"We will be bringing extra capacity and endeavouring to help and assist in terms of electoral capacity and political know-how.
"We have a really well-resourced approach in terms of electoral strategy, we want to share that with the SDLP. Collectively, we are stronger."
On the prospect of a merger, Mr Martin added: "This is not predominately about labels or parties.
"The middle ground in Northern Ireland are looking for a new approach to politics, to make Northern Ireland work within the context of the Good Friday Agreement, that is what people want.
"This is the best approach to try to make politics work, certainly over the next number of years."
Mr Martin says going forward, he feels the partnership will be beneficial to both parties:
SDLP South Belfast Assembly member Claire Hanna has been a critic of the partnership, which follows a year of well-trailed discussions, and was not at Thursday's Belfast launch.