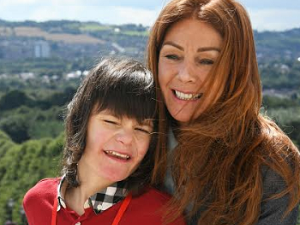 Billy Caldwell with his mum Charlotte celebrates his 15th birthday today
By Q Radio news

A severely epileptic boy from county Tyrone - whose plight sparked a major fundraising campaign - celebrates his 15th birthday today.
Billy Caldwell from Castlederg has been the subject of a long running battle to obtain medicinal cannabis on the NHS.
Two years ago his mother Charlotte had cannabis oil - brought back from Canada - confiscated at London's Heathrow Airport.
Billy was then admitted to hospital after suffering seizures.
Charlotte says while today is a milestone in Billy's life her campaign will continue...