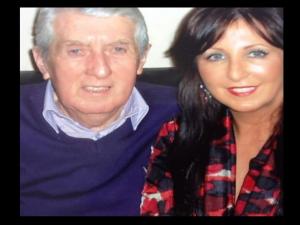 By Q Radio News
A County Tyrone woman who lost her father to coronavirus and whose sister is fighting for her life, has warned that nobody is safe in the current pandemic.
Maria Farrell's dad Jackie who was 88, passed away in Altnagelvin Hospital last Thursday a day after being admitted.
People lined the streets of the Ballycolman Estate observing social distancing, ahead of his funeral in Strabane on Sunday.
Mr Farrell, a bus driver, was well known and respected in the town, where he had lived for many years.
Maria's sister, Ursula, is also in a serious condition in hospital.
Maria took to social media this week to firstly thank the people in the local Strabane community, for paying tribute to her father ahead of his private funeral.
She also issued a message to warn people about the pandemic, saying "this is real":
In the video Maria warned, "if you think you are going to be exempt for this or you are immune from COVID-19, you are barking up the wrong tree.
"My dad battled prostate cancer, heart attacks, falls, you name it and this took him."
However, Maria said she was happy her father would be reunited with her mother, saying he "had a good life".
"I was so proud to call him my daddy he was my role model, my superman, so that, COVID-19 can't take away.
"This is real, look after yourselves and one another and together we will fight it"