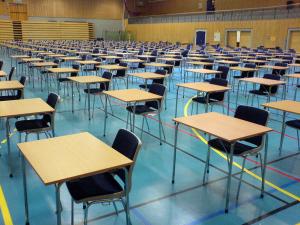 Q Radio news
Around 30,000 pupils across Northern Ireland will receive their A-level and AS results on Thursday.
Last year, boys outperformed girls at the top A-level grade for the first time, since it was introduced nine years ago.
Girls in Northern Ireland still outperform boys overall, but were told the gap is closing.
Pupils in Northern Ireland have consistently outperformed their counterparts in England and Wales in recent years.
Many students will be planning their next steps, with many of them committing to more education and University courses.
Others may be considering apprenticeships, work, and further educational training.
Some students will not have achieved the grades they wanted, but they're being told not to panic as other options are available.
Chair of the Education Authority, Sharon O'Connor said: "Today is an important day for students and their families, teachers, and schools across Northern Ireland.
"We are proud of the high standard of education which is delivered in our schools, and that is something to celebrate.
"As the world is changing, with the introduction of new technologies and new ways of doing things, we need to be sure that our young people are prepared to meet these challenges and capitalise on opportunities, and having a good education is all part of this."
She continued "We would like to take this opportunity to congratulate staff in schools for their professionalism and dedication in supporting our young people in their achievements.
"A range of career pathways are open to students, in the next stage of their lives, including University, Further Education College, and training or apprenticeship programmes."
Further advice and support is available here.