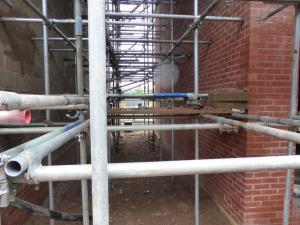 BY David Hunter
The owner of a Carrickfergus based scaffolding company says he's disgusted after alleging he was told to leave a site in North Belfast this morning.
The businessman was working for another contractor in Ardoyne as a 'favour' earlier.
After around two hours on site the man received two phone calls telling him to pack up and leave, as he wasn't from the area.
He said "The message was simply, you're not from here, you're not welcome".
"They just said, get out. We normally have a tea break at around 10 o'Clock, and they said don't even take that. Just pack up and get out".
The crew then packed up the scaffolding and left as quickly as possible, with another man watching over them until the job was completed.
The owner didn't wish to go on air but told Q radio it was the first time in over 20 years anything like this had happened.
He said "I thought all of this was behind us. I really did. The contractor I was helping was a Catholic, and I'm from a protestant background. We discussed it, but I was just trying to give them a hand. He feels terrible about it all."
A PSNI statement read: "We do not discuss the security of individuals and no inference should be drawn from this. However, if we receive information that a person's life may be at risk we will inform them accordingly. We never ignore anything which may put an individual at risk."
DUP MLA William Humphrey said: "It is utterly appalling that anyone should be intimidated while carrying out their work. Those responsible for making these sectarian threats will be condemned by all right-thinking people.
"My office has been in touch with the company owner. He was contracted to put scaffolding up today which was to be taken down on Friday. Shortly after three of his workers commenced on site this morning he received a phone call to say that local men had said that these workers were not welcome in Ardoyne and they had to pack up and get out immediately.
"Whilst he says that no organisation name was mentioned and no death threats were made, it was clearly an act of intimidation threatening the safety of his men and he was in no doubt that it was sectarian. "