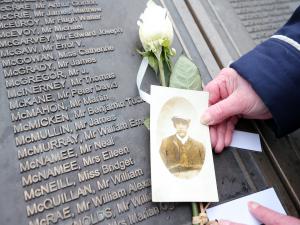 by Gráinne Connolly
A memorial service has taken place in Belfast today to mark the 107th anniversary of the Titanic tragedy.
The Titanic Memorial Gardens on City Hall grounds commemorates the 1,512 men, women and children who died on the RMS Titanic's maiden voyage, in the early hours of 15 April 1912.
The short service was conducted by Reverend Ian Gilpin, Non-subscribing Presbyterian Church in Comber, with the Lord Mayor's Chaplain, Reverend Karen Sethuraman, saying a short prayer.
Presiding over the service was Dr Aidan McMichael, Chairman of Belfast Titanic Society.
Meanwhile, Lord Mayor of Belfast, Councillor Deirdre Hargey paid tribute to those who lost their lives saying, "The tragedy of the Titanic is very close to home for the people of Belfast.
"Many of our citizens were on board when she went down and are remembered by relatives who have gathered with us to mark this occasion.
"The Olympic-class ocean liner was one of our finest, built by local craftsmen and remembered across the world for her top class design and engineering.
"The tragedy cast a cloud on our city and it says much for our resilience that we have found a way to deal with the loss, building a poignant Memorial Garden in the City Hall grounds and our new Titanic Quarter regenerating the former shipbuilding heart of the city which we can all be proud."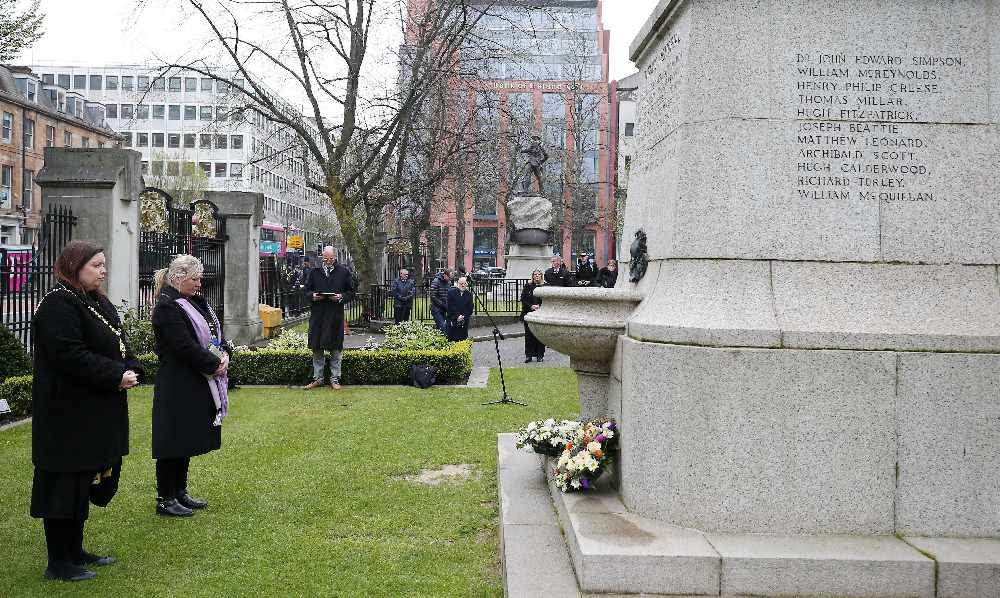 (Lord Mayor of Belfast, Councillor Deirdre Hargey, joined Susie Mllar, President of the Belfast Titanic Society to lay wreaths at the Titanic Memorial in City Hall grounds today, in memory of those who died aboard the RMS Titanic.)
Speaking at the service Dr McMichael said: "The Titanic Memorial Garden at Belfast City Hall is a fitting backdrop to the annual Titanic Commemoration Service held each year on the 15th April.
"This year marks the 107th anniversary since the loss of RMS Titanic. As we in Belfast continue to develop the story of design, construction and launch of RMS Titanic, the Ship of Dreams, the Titanic Memorial Service remains a special time to remember all those who were lost in the tragedy".
Relatives and descendents of those died in the tragedy also laid roses on the Garden's memorial plinth, which supports bronze plaques listing, in alphabetical order, the names of those lives that were lost.
A commemoration service has taken place to mark the 107th anniversary of the Titanic tragedy. Families and descendants of those who lost their lives, laid roses in their memory at the Titanic memorial on City Hall grounds. pic.twitter.com/fQ3RpJp4Ob

— Q Radio News (@qnewsdesk) April 15, 2019
Theresa Caulfied was among those laying roses, in memory of her grandfather's brother Richard Turley who was a stoker in the engineer room on Titanic: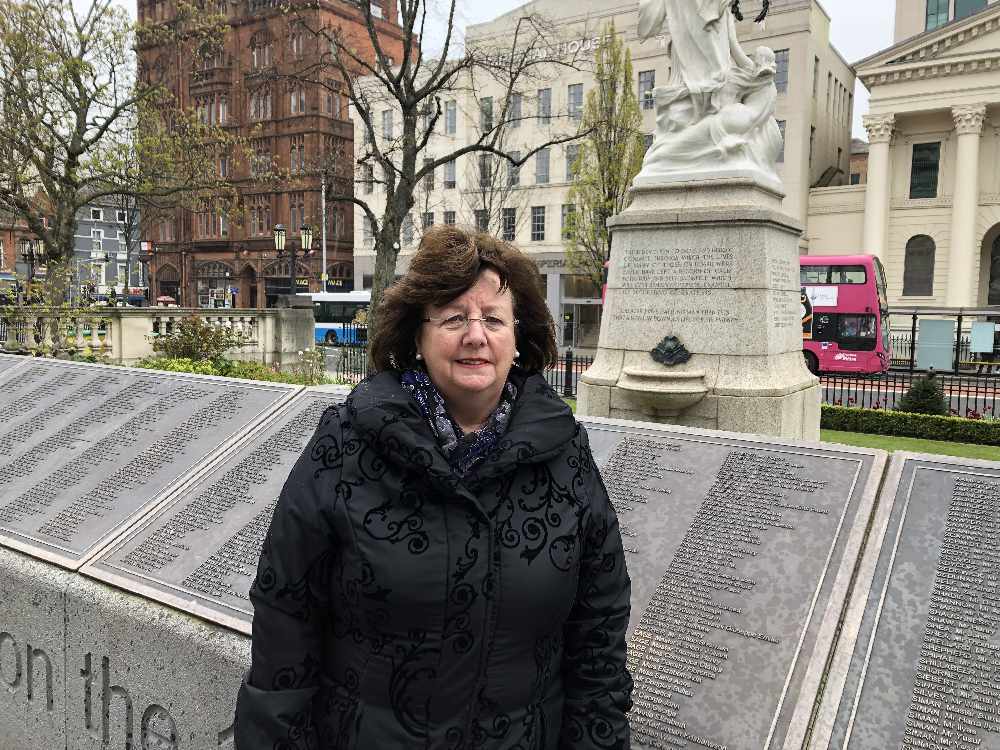 (Theresa Turley at the Titanic memorial on Belfast City grounds)
For more information on the garden, visit the council website at http://www.belfastcity.gov.uk/tourism-venues/cityhall/titanicmemorialgardens.aspx