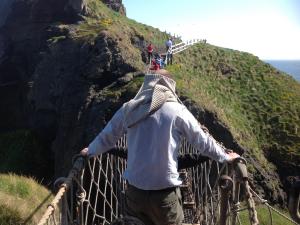 By David Hunter
Carrick -A- Rede rope bridge has been re-opened to members of the public today.
It was feared the popular tourist attraction may have be closed for several weeks after vandals attacked the site overnight on Wednesday.
One of the Bridge's main structural hand ropes was cut leaving the stability of the structure in doubt.
Hundreds of tourists were denied entry on Wednesday as a result whilst engineers assessed the damage.
Luckily the hand rail is made up of three supporting ropes, and only one was damaged in the 'mindless' attack.
National Trust staff were able to re-open on Thursday after being given the green light by health and safety experts.
Jennifer Michael from the Trust told QRadio news that staff worked 'through the night' to ensure the Bridge was accessable.
"We werent sure yesterday how long it was going to repair or replace and re-open but we're delighted.
"It really was one rope that was damaged but because the health and safety of visitors is paramount we really wanted the structural engineers to come and assess the damage.
"So, until they made an assessment of the situation we really didn't know what kind of damage we were looking at."