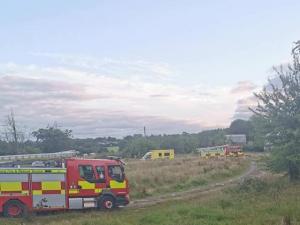 Picture from Councillor Brian Heading
Q Radio News
Four teenage girls were trapped inside a disused barn with burning blocks of polystyrene, police have said.
There were no reports of serious injuries and only minor damage was caused to the property at Mount Eagles Avenue on the outskirts of west Belfast on Monday.
PSNI detective sergeant Hollie McCartan said it was reported that the girls, all aged 13, gained access to the shed.
She added: "When inside, a number of male youths set blocks of polystyrene on fire and threw them into the barn.
"Wood and stones were also thrown into the premises which trapped the girls inside."
They managed to contact Northern Ireland Fire & Rescue Service, whose members attended and rescued them.
Trapped girls rescued by @NIFRSOFFICIAL after youths set fire to disused barn in Dunmurry.

PSNI statement: pic.twitter.com/7cGVy6qFSt

— Q Radio News (@qnewsdesk) July 14, 2020
DS McCartan added: "It is extremely fortunate that we are not dealing with more tragic circumstances following this incident.
"This was a terrifying ordeal for the girls trapped inside and if they had not managed to contact the authorities the consequences could have been devastating.
"The persons responsible showed a complete disregard for the safety and wellbeing of those inside."
One of the suspects involved was described as having blond hair which was shaved at the sides and wearing a black top and navy bottoms.
Another was described as wearing a green and white coloured top, with a third described as wearing a grey tracksuit with the hood covering his face.
Ulster Unionist MLA and former firefighter Robbie Butler believes the girls are lucky to be alive:
SDLP councillor Brian Heading is calling for the youths involved to voluntarily go to the authorities:
Alliance West Belfast representative Donnamarie Higgins says it could have been a devastating tragedy: