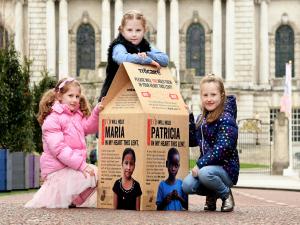 By David Hunter
Trócaire has just launched it's 2019 Lenten Appeal, but where does all the money go?
Each year people in Northern Ireland donate around £2.4million to the charity, combined with several million Euro raised in the Republic of Ireland.
This year's campaign will be used to help progress two projects protecting people left landless in the developing world.
Trocaire's calling for a legally binding UN treaty to protect people in the developing world from human rights violations.
LISTEN: Trocaire Head of region for Northern Ireland, Siobhan Hanley, speaks to QRadio.
It also looks to protect Landowners from big corporations forcing them off thier land unfairly, and without adequate support.
The charity claims the race for natural resources in the developing world has led to land more than 34 times the size of Northern Ireland being sold to corporations since 2000.
This year's Trócaire lenten campaign will focus on land and human right's abuses worldwide. They're seen as some of the root causes of worldwide issues as people are forced off land and into poverty. The charity also wants a UN treaty holding large corporations to account. pic.twitter.com/6VS4ag9CWm

— David Hunter (@davidhunter7) March 6, 2019

Head of region for Northern Ireland, Siobhan Hanley, says millions of people around the world are at risk of exploitation and abuse as a result.
"The human rights framework governing businesses has not kept pace with the modern economy" she said.
"We live in a globalised world, where business knows no border. Countries, particularly in the developing world, compete for investment from companies often richer and more powerful than they are.
" The world's top 10 corporations have a combined revenue equivalent to more than the 180 'poorest' countries.
This year's Lenten Appeal highlights the different ways the world's poorest people are at risk of losing their land.
The 2019 donation box features three families – from Guatemala, Uganda and Syria – each of whom has lost land as a result of corporate action, war or because they are women.
Trócaire's Lenten Appeal is Ireland's largest annual fundraising campaign, with close to one million Trócaire boxes across the island.