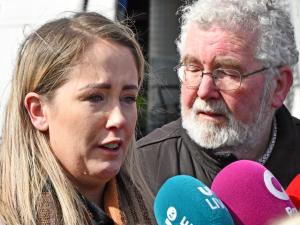 Joanne Dorrian and her dad John
By Q Radio News
The PSNI are using new technology to try to find the body of missing County Down woman Lisa Dorrian who vanished in 2005.
Today Lisa's family returned to the scene where she was last seen alive in 2005.
The 25 year-old is thought to have been murdered after a party at Ballyhalbert Caravan park in Co.Down.
Yesterday, detectives announced new searches in a bid to find her remains - and are today focusing on a disused airfield nearby.
The sister of Lisa Dorrian, who went missing in 2005 says she hopes new searches will help bring her family some answers. Speaking to the media, Joanne says being back at Ballyhalbert, Co. Down where Lisa was last seen alive 14 years ago was "really difficult": pic.twitter.com/u7jkPu1gNa

— Q Radio News (@qnewsdesk) 2 April 2019
This morning the PSNI and the Dorrian family updated journalists on the search operation.
Detective Superintendent Jason Murphy says new information and a development in technology brought about the fresh lead.
DSI Murphy wouldn't be drawn on exactly what the new information was but says searches are expected to continue for several days.
PSNI Detective Superintendent Jason Murphy says new information has sparked new searches at Ballyhalbert, Co. Down for the body of Lisa Dorrian. The Bangor woman was last seen alive at a caravan park there in 2005. DSI Murphy has been giving the media an update: pic.twitter.com/jg9X7rgCQC

— Q Radio News (@qnewsdesk) 2 April 2019
Search operations are currently underway at an unused airfield behind Ballyhalbert caravan park, Co. Down, for the body of Lisa Dorrian who went missing in 2005. pic.twitter.com/NYJ4mUM9pd

— Q Radio News (@qnewsdesk) 2 April 2019

Detective Superintendent Jason Murphy