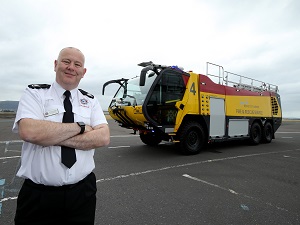 Seamus MacMahon, Chief Fire Officer and Head of Emergency Planning at George Best Belfast City Airport
By Adam Evans
The first of three new £1million fire tankers have arrived at Belfast City Airport.
The 33-tonne vehicles can release 45,000 litres of foam every minute.
They've the technology to top speeds of nearly 80 miles per hour and to work in zero visibility.
Seamus MacMahon, Chief Fire Officer and Head of Emergency Planning at Belfast City Airport said: "Belfast City Airport Fire Service is responsible for safety of all aircraft within the airfield.
Mr MacMahon added that: "In addition, our 33 full-time fire fighters are trained first medical responders to the three million visitors to the airport each year.
"The new fire appliance was custom-built in Seville and comes equipped with full thermal imaging and infra-red driver vision, meaning the tender can operate in zero visibility. It can also fight fires whilst on the move, carrying 11,500 litres of water.
"It is equipped with an electronic control system and the latest communications systems ensuring we are ready for any eventuality should it occur."
Mark Beattie, Operations Director at the airport said: "The arrival of the first of three fire tenders is part of an overall £15 million capital investment programme at the airport which, when complete, will include a new security search area and refurbishment of the departures lounge with an enhanced retail offering.
"Our vision for the airport is to deliver an experience that exceeds our customers' expectations. This encompasses every service at the airport including the vital work that is carried out by our fire service behind-the scenes."