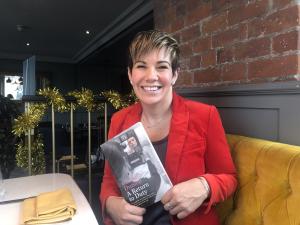 by Gráinne Connolly
A PSNI officer who spent three months locked in her own body after a brainstem stroke has launched a book about her remarkable recovery.
Clodagh Dunlop's life was turned upside down in 2015 when she had a stroke at the age of 35 and developed locked-in syndrome.
She was left unable to communicate or move but was aware of everything that was going on around her.
Locked-in syndrome is an extremely rare condition where someone is completely paralysed in all parts of their body, apart from the muscles that control eye movement.
There is no cure for it and Clodagh was expected to be a prisoner in her own body forever.
However, against all the odds, she managed to learn to walk and talk again and even re-joined the PSNI 18 months after the stroke.
She has since qualified to become a detective within the force.
Complete recovery is highly unusual and Clodagh does not have full use of her right arm and leg but she has defied her prognosis of spending the rest of her life in a wheelchair.
'A Return to Duty' reveals the agony and frustration the Magherafelt woman went through in 2015 when she experienced some of her darkest days.
She told Q Radio being "trapped" in her body was the most terrifying ordeal she has ever experienced.
🎥 Magherafelt police officer Clodagh Dunlop has released a new book 'A Return to Duty' which tells her amazing story of overcoming locked-in syndrome after suffering a stroke in 2015. She was left unable to talk or move but was aware of everything happening around her. pic.twitter.com/QY4MDzXlh1

— Q Radio News (@qnewsdesk) November 26, 2019
Clodagh has been campaigning to raise awareness of locked-in syndrome and of how young people can also have strokes.
She has lobbied government to introduce new legislation to reshape stroke services.
The survivor says that writing the book was a difficult yet cathartic experience.
"I always knew I wanted to write my story but it has taken me time to feel ready to talk about some of the very personal aspects of it.
"I want the world to know the reality of the struggle when you lose the ability to communicate.
"Locked in syndrome is a truly horrifying ordeal and I was convinced many times that I was going to die in hospital because I couldn't communicate the fact that I was overheating or in pain.
"It was only because my partner Adrian noticed I could blink that we were able to work out a way of communicating until I could learn to make a sound again.
"Writing the book made me laugh and cry as I relived the experience and I will be delighted if this book can help anyone who has a friend or family member going through a similar situation to understand what is happening.
"I know how fortunate I am to enjoy the quality of life that I do, because I know this is not the case for many survivors of locked in syndrome, and that is thanks to Adrian and my family and the dedication of the healthcare workers who helped me learn to breathe, talk and walk again."
Clodagh reveals in A Return to Duty that in the middle of a seizure she took at A&E, medical staff didn't recognise her symptoms with a nurse repeatedly asking her what drugs she had taken.
"I feel that there is still much to be done in terms of education about stroke in younger people.
"Brainstem strokes can be difficult to diagnose but my symptoms were missed and perhaps action could have been taken earlier to prevent it becoming such a serious situation.
"I found it very difficult to stay positive when during my rehabilitation I was asked by healthcare staff if my family had selected a nursing home for me. I was told to expect to spend the rest of my life in a wheelchair and, while I'm delighted that isn't the case, I believe that my determination has helped immensely in my recovery."
A Return to Duty is available to buy at https://www.beatinglockedin.com/ for £9.99 and at branches of Waterstones throughout Northern Ireland.