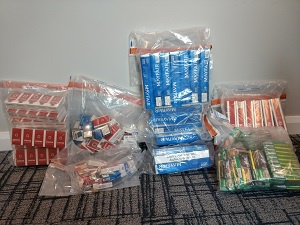 By Adam Evans
A woman has been arrested after the Paramilitary Crime Task Force seized 7,200 cigarettes and more than 2.1 kilograms of rolling tobacco in east Belfast.
The suspect, 43 has been questioned in relation to the evasion of excise duty and released on bail.
The suspected illicit tobacco products, which HMRC says were worth £3,104 in lost duty and taxes were found when a commercial premises was searched yesterday.
Steve Tracey, Assistant Director, Fraud Investigation Service, HMRC, said:
"Working together in partnership with other enforcement colleagues we can target the criminal gangs who are stealing from the taxpayer, robbing public services and undermining legitimate, honest traders."