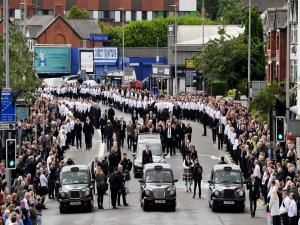 Bobby Storey Funeral
By PA Reporter
Twenty-four people have received letters inviting them to make arrangements for interview about the Bobby Storey funeral.
Simon Byrne fielded the questions on the probe into the veteran' Republican's funeral at the Justice Committee.
He said: "We are in dialogue with those 24 people and hopefully as the investigation progresses we can update further."
He said the investigation had to be completed within six months and expected the evidence would be sent to the Public Prosecution Service within the next couple of weeks.
Sinn Fein Assembly member Linda Dillon said she was one of those invited to attend interview but added police had got their approach to the investigation right.
She accused the media and politicians of applying pressure.
"Everything is about Bobby's funeral.
"The blatant hypocrisy in this room would sicken you.
"The right approach was taken because the PSNI took a balanced approach."