Chloe St John
More than 50 businesses in Northern Ireland have written a joint letter to MPs, urging them to avoid a no-deal.
The House of Commons is due to vote again on Theresa May's withdrawal agreement in the coming days.
Bombardier, Danske Bank, and Queens University Belfast are among those warning a no-deal would significantly damage the economy and peace-process here.
The employers organisation CBI has organised the letter.
It reads:
The Northern Ireland business community wish to express its deep concern that local firms are hugely exposed to the economic fallout from leaving the EU with no-deal.
The private sector across Northern Ireland is currently responsible for 560,000 jobs and has ambitions to create many more. However, a no-deal Brexit will result in significant damage to our export markets, supply chains, consumer spending power and the region's competitiveness.
Although Brexit has not yet happened, the negative economic impact is already starting to bite in terms of the private sector's ability to invest. Northern Ireland industry also notes with much regret, uncertainty around future funding for local infrastructure given the immediate loss of approximately £450 million from the European Regional Development Fund which was once earmarked for significant infrastructure projects. The uncertainty linked with Brexit has additionally contributed to significant skill and labour shortages.
Local businesses believe that failure to approve a deal with Europe on the UK's withdrawal from the EU will have significant repercussions for the local economy. Such a scenario will both hinder indigenous and foreign direct investment, it would result in significant job losses and will stifle opportunities for the next generation across Northern Ireland.
The private sector has consistently stated that peace and prosperity are mutually dependent. A no deal Brexit will undoubtedly result in creating regulatory and tariff differences across the island of Ireland and will therefore have direct consequences for border checks and crossings. We therefore urge MPs across the UK to consider the damaging impact on Northern Ireland's economy and political stability in the event of a no-deal Brexit.
The peace and economic progress that flowed from the Belfast/ Good Friday Agreement cannot be overlooked at this critical time in the UK's history. All Members of Parliament must consider the burden of responsibility that they now carry for this region's future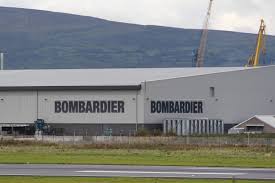 (Bombardier is among the signatories)
Signed:
AES UK and Ireland
Allianz
Andras House Ltd
Aurora Prime Real Estate Ltd
Avondale Foods Ltd
Beyond Business Travel
Bombardier Aerospace
Canyon Europe Ltd
CBI NI
CBRE
Chartered Accountants Ulster Society
Coca-Cola Hellenic Northern Ireland Ltd
Construction Employers Federation
Creagh Concrete Products
Danske Bank
Deli Lites
Denroy Plastics
Denman International Ltd
Devenish Nutrition Ltd
Duncrue Food Processors
Eakin Healthcare Group
Etain Software
Evermore Energy
Fane Valley
First Trust Bank
Forde May Consulting Ltd
Graham Group
Greiner Packaging Ltd
Hilton Meat Products Ltd
Interfrigo Ltd
Lanyon Communications
Linden Foods
Maxol Oil
McCloskey International Ltd
Mineral Products Association NI
Mount Charles Group Ltd
Norbrook Laboratories Ltd
Northern Ireland Electricity Networks Ltd
O'Hare and McGovern Ltd
PKF-FPM
Queen's University Belfast
Quinn Building Group
Rainbow Communications
SDC Trailers Ltd
SHS Group
T G Eakin Ltd
Thales
Thompsons
Ulster University
Viridian Group
Walter Watson
W & R Barnett Ltd
Westland Horticulture Ltd
White's Speedicook Ltd
Wilsons Country Ltd
Yardmaster International