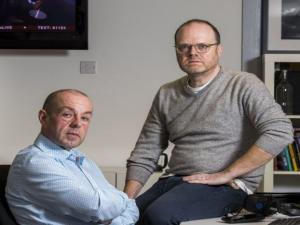 By Q Radio News
The Chief Constable says he'll apologise over how an investigation into two journalists was handled if an independent inquiry finds he acted wrongly.
Barry McCaffrey and Trevor Birney were arrested last year - over the alleged theft of Police Ombudsman documents.
The men worked on the film 'no stone unturned' - revealing allegations of collusion into the murders of six men in the Loughinisland Massacre in 1994.
The journalists say they learned of the information through a whistle blower, and argued they have the right to protect their sources.
The criminal investigation into the pair was dropped this week, after a judge said the warrant to search their homes and offices - should be quashed.
The two journalists attended a public meeting of the policing board this afternoon, alongside families of those killed in the atrocity.
Chief Constable George Hamilton has been speaking to Q Radio News in the past few minutes:
Journalists Barry McCaffrey and Trevor Birney are sitting alongside family members of victims of the Loughinisland Massacre at today's public meeting of the policing board. Chief Con George Hamilton and Durham Chief Con Mike Barton both attending. pic.twitter.com/c6pcYg6Psr

— Q Radio News (@qnewsdesk) June 6, 2019
Trevor Birney says among the items seized from his home was a phone, credit notes, documents, and a USB stick containing his daughter's homework: pic.twitter.com/Evv9VLuWjj

— Q Radio News (@qnewsdesk) June 4, 2019
Journalists Barry McCaffrey and Trevor Birney have arrived at Castlereagh Police Station in Belfast to pick up documents seized from them by police. @trevorbirney says 'it's a good day for journalism' pic.twitter.com/zIfdxyvatA

— Q Radio News (@qnewsdesk) June 4, 2019