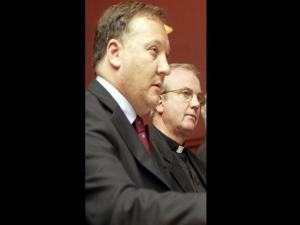 By Q Radio News
MP's will today debate the Northern Ireland Bill at Westminster.
It is designed to delay the date for calling another Assembly election in order to allow the Stormont talks to continue.
It would also give civil servants greater clarity around decision-making in the continued absence of a devolved administration.
Reverend Trevor Gribben is from the Presbyterian church.
He fears politicians may use the debate to try to liberalise abortion and same sex marriage laws here.
Rev Trevor Gribben, Clerk of the General Assembly and General Secretary of the Presbyterian Church in Ireland, said that it was important to focus simply on the purpose of the legislation and that decisions on other matters affecting Northern Ireland should not be tacked on, but left for consideration by locally elected MLAs.
"It is important that everyone committed to the peace process continues to encourage those engaged in the inter-party talks to restore devolution.
The progress that has been made since the beginning of the talks needs to be consolidated. As a result, the August deadline for an Assembly election should be extended by legislation, as it is important that the talks be given every opportunity to succeed.
"This is the aim and should be the sole focus of the Bill coming before Parliament on Monday.
It is, therefore, very unfortunate that some MPs could seek to use this parliamentary process to further their own agenda, for instance, seeking to change the abortion law or to introduce same sex marriage to Northern Ireland by the backdoor, through the amending of this Bill.
This would bypass the devolved settlement that was agreed over 20 years ago.
Decisions of this nature affecting Northern Ireland should be made by locally elected MLAs.
"There are many pressing issues to be dealt with, not least those affecting our schools, hospitals, social care and welfare systems.
These affect the lives of many of the most vulnerable and marginalised people in our society, including the victims of our violent past.
Political cherry-picking of issues by MPs, when talks to restore devolution are ongoing, would be unhelpful and run contrary to the spirit of devolution and the devolved settlement itself."