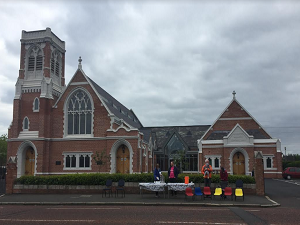 Cregagh Presbyterian Church in East Belfast is among those supporting the runners
Chloe St John
Thousands of runners have set off from Stormont for the Belfast City Marathon.
It's the first time ever the race has been held on a Sunday; a decision which has made some churches unhappy.
Reverend David McIlveen says many parishioners are disappointed:
However other churches on the marathon route have opened their doors and set up stalls outside to support runners.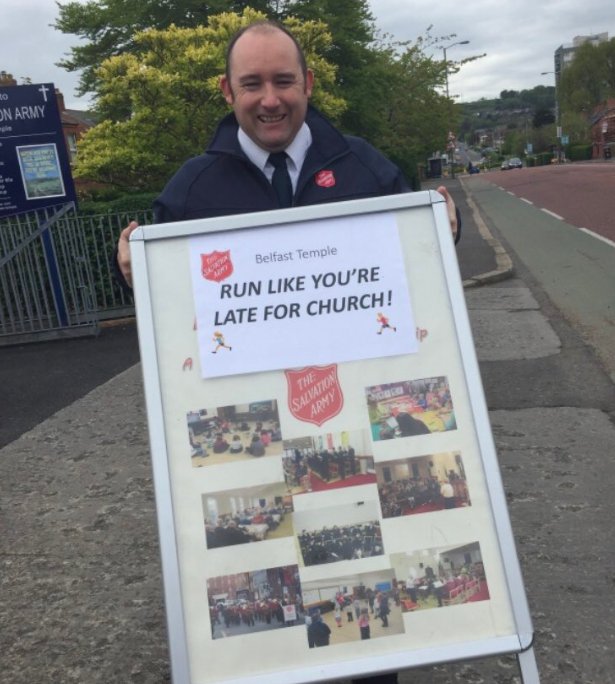 (Supporter outside Belfast Temple Salvation Army on the Cregagh road)
Minister Edward McKenzie from Cregagh Presbyterian says they've had to adapt:
Sweets, Orange slices, and water on offer for runners on the Cregagh Road courtesy of @salvationarmyuk 🙌🏼🏃🏻‍♂️🏃🏽‍♀️ pic.twitter.com/UTUEWBPMu6

— Q Radio News (@qnewsdesk) 5 May 2019
Noel Moore is a member of the Salvation Army on the Dublin Road.
He says this is just something they have to put up with:
Some musical encouragement for runners taking part in Belfast City Marathon this morning🏃🏽‍♀️🏃🏻‍♂️🏃🏽‍♀️ pic.twitter.com/Kflx3ROYcY

— Q Radio News (@qnewsdesk) 5 May 2019