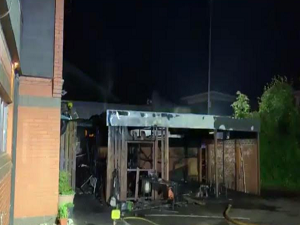 It happened at Holy Family Church in Ballymagroarty.
Q Newsdesk
Youths have allegedly set fire to a church in Derry-Londonderry, destroying out buildings, and damaging the parochial house and church roof.
Damage can clearly be seen at the rear of Holy Family Church in #Derry after youths deliberately set fire to garages. The sheds were completely destroyed, windows of the parochial house blown in and there is damage to the roof of the church itself pic.twitter.com/GI7qYlycxm

— Leona O'Neill (@LeonaONeill1) 24 May 2019

Four fire crews tackled the blaze last night, at the Holy Family Church in Ballymagroarty.
The blaze took hold after garage at the rear of the church were set alight.

Parish Priest Father Paddy O'Kane told Q Radio he was shocked and upset by what had happened.
He said he will pray for those responsible:
A shocked and upset Father Paddy O'Kane outside his #Derry church tonight which was deliberately set ablaze by youths. Garages were destroyed, his parochial house had windows blown in and Church's roof has been damaged by fire.
Fr Paddy says he will pray for those who did this pic.twitter.com/0UHX2LikXc

— Leona O'Neill (@LeonaONeill1) 24 May 2019
NIFRS Group Commander Andy Burns told Q radio he believes the fire was started deliberately:
The @NIFRSOFFICIAL Group Commander Andy Burns says that tonight's fire at Holy Family Church #Derry was deliberate. Youths were seen setting fire to a shed at the rear of the parochial house. He has called on young people to desist from setting dangerous deliberate fires pic.twitter.com/mQX5ufg7IK

— Leona O'Neill (@LeonaONeill1) 24 May 2019
Detective Constable Fielding said: "An outbuilding adjacent to Holy Family on Aileach Road was set alight at around 10.30pm. The blaze spread to the church and nearby parochial house causing damage to both. The outbuilding was completely destroyed. At this stage we believe two males may have been involved in starting this fire and we are keen to identify them. We would like to hear from anyone who was in the area at around the time of the fire or anyone who may have information regarding this crime. The number to call is 101, please quote reference 2311 24/05/19."