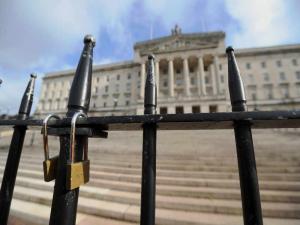 By Richard Wheeler and Josh Thomas
Karen Bradley has suggested she is open to appointing an independent person to chair talks designed to restore Northern Ireland power-sharing.
The Northern Ireland Secretary said she has proposed a "short, focused set of five-party talks" aimed at restoring devolution and the other institutions at the "earliest opportunity".
But Labour MP Paul Sweeney (Glasgow North East) said: "I think it's fair to say the Secretary of State has lost the confidence of many political leaders in Northern Ireland over recent months.
"So will she at least concede she's probably not the best person to be chairing those talks, and will she repeat the best practice of previous secretaries of state and appoint an independent chair to lead those talks at restoring devolution in Northern Ireland?"
Ms Bradley replied: "I don't agree with his opening remarks but I do want to look at what is the best way to achieve a successful outcome from the talks, and I'm open to looking at all options as to how to achieve that."
SNP Northern Ireland spokesman Gavin Newlands questioned if the lack of Brexit developments meant the all-party talks would not happen until after the May 23 European Parliament elections, noting this "brings us into the heart of marching season".
Ms Bradley said Mr Newlands had referred to a "number of issues that may be making it more difficult for parties to find an accommodation to enable them to restore devolution", adding that backing Theresa May's Brexit deal would help.
Northern Ireland has been without an executive since January 2017 when power-sharing between Sinn Fein and the DUP broke down.