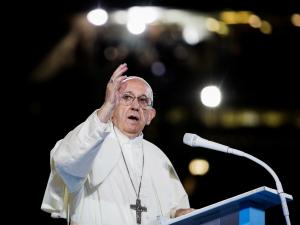 Q Radio news
The Pope has summoned senior Bishops and church officials from around the world to the Vatican for a four day conference to tackle sex abuse.
It's designed to teach religious leaders how to try and eliminate the problem, but critics say it's too little too late.
The summit was called in September last year, after the sex abuse scandals cast shadows over Pope Francis' visit to Ireland in August.
He was also heavily critisised for not traveling North of the border to meet with victims of historic institutional abuse here.
The Government is still considering compensation and redress schemes for those abused in church and state run institutions.
However, survivors have hit out saying the recommendations of the long-awaited Hart Inquiry can't be implemented because of the political crisis at Stormont.
Yesterday in Rome survivors demanded to meet Pope Francis to press their call for the Church to apply a zero tolerance policy, including the dismissal of bishops who covered up such offences.
The 12 victims made their demand at a meeting with the five Vatican officials organising the summit.
It lasted for more than two hours and one survivor described it as "at times a little confrontational and heated".
Archbishop of Armagh Eamon Martin is attending the summit in Rome on behalf of church leaders in Ireland.
He also says he'll share the story of our own past within the church, in a bid to inspire change elsewhere.