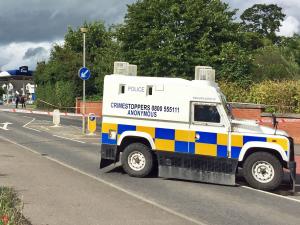 Q Radio news
A 30 year old man has been arrested on suspicion of the murder of Malcolm McKeown.
The 54 year old was found dead in his car at a petrol station in Waringstown on Monday night.
Police also say two searches have been completed, and two more are taking place in Lurgan and Waringstown connected to the investigation.
The incident took place in Main Street of Waringstown just before 9pm on Monday night.
Detective Chief Inspector Peter Montgomery said the father of three was "shot in cold blood in broad daylight".
He said Mr McKeown had entered the shop at Dewarts Garage around 7.15pm. He was shot as he left the shop and walked to his car.
Detective Chief Inspector Montgomery said the murder investigation is at an "early stage", and police are keeping an "open mind" about the motive.
He has made an appeal for witnesses to come forward.
"Were you in Dewarts Garage or in Waringstown Main Street on Monday between 6-7.30pm. Did you see Mr McKeown's vehicle, a silver coloured BMW VRM, registration XEZ 5518. Do you have Dashcam footage on your vehicle?" he said.
"I would also like to hear from anyone who saw Mr McKeown at any stage during Monday.
"A blue coloured car was seen leaving the scene and subsequently a VW Passat, registration VRM RK62 PLX was found burnt out on the Glenavon Road in Lurgan later on Monday night. Did you see this vehicle or any people with the vehicle. If so do you know where they went?