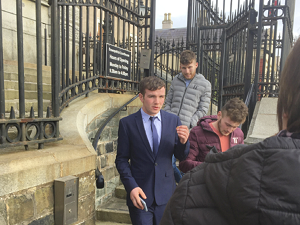 By Paul Higgins.
A teenager today (tues) denied killing a pensioner by dangerous driving.
Standing in the dock of Downpatrick Crown Court, 19-year-old Matthew McKee confirmed his identity while defence counsel Patrick Taggart confirmed to Judge Piers Grant the teenager had been "fully advised about the issue of credit and understands the implications."
McKee, from Meadowlands Avenue in Kilkeel, entered a not guilty plea to the single count against him, of causing the death of Geoffrey Cartwright by driving dangerously on the South Promenade in Newcastle on 24 August 2017.
Great grandfather 78-year-old Mr Cartwright was on his way home from a bar and was knocked down by a black Ford Focus just yards from his home.
Following the short arraignment, Mr Taggart revealed the defence had instructed a forensic engineer to examine the locus of the accident, adding that the report in the "unusual case" would take around six weeks.
Judge Grant told the lawyer however "I'm not content" with that and advised Mr Taggart to expedite matters as soon as possible.
Freeing McKee on bail, the judge listed the trial, set to last a week, to start on 15 May.