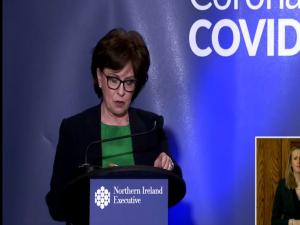 By Michael McHugh, PA
Northern Ireland's economic output is up to 30% below normal levels, a Stormont minister has said.
Every month of lockdown will reduce annual productivity at the end of the year by around 2% to 3%.
Around 200,000 people were part of the Government's furlough jobs protection scheme, and tens of thousands of self-employed received other official support.
The young and those on zero-hours contracts were among laid off workers creating a "spike" in applications for the Universal Credit unemployment benefit, economy minister Diane Dodds' department said.
She said: "We should not shy away from the fact that this has been a very, very difficult period and it will be a long, hard road to recovery."
The minister added: "Each month we shut down is akin to a large recession."
Stormont faced criticism from hoteliers after the Executive invited them to start taking forward bookings without setting a date for when they will be allowed to reopen if the coronavirus spread is contained.
Economy Minister @DianeDoddsMLA says £280M has been granted to businesses in Northern Ireland.
Over 2,000 applications been submitted to the hardship fund.
40,000 businesses will have been eligible for NI support schemes. pic.twitter.com/PMTimr1CDO

— Q Radio News (@qnewsdesk) May 29, 2020
The Economy Department has plotted a route to recovery and ministers are due to meet next week to consider when hotels can reopen.
A document published by the economy department on Friday said: "We have all been affected by the coronavirus pandemic and the measures needed to control it.
"For our economy these effects have been unprecedented.
"Our latest assessment puts the overall output within the Northern Ireland economy at around 25% to 30% below normal."
Mrs Dodds said local businesses were keen to get back to work.
Around 230 clients of Government jobs-creation body Invest NI are signalling they plan to return to work.
Invest NI chief executive Kevin Holland said early in the lock down some businesses would still have stock left over but after that they found themselves in a "deeper hole".
Kevin Holland from @InvestNI says that social distancing, remote working and greater use of technology is inevitable in the future in businesses because of COVID-19.
"Some may not recover." pic.twitter.com/MjJFeEqDxi

— Q Radio News (@qnewsdesk) May 29, 2020
Mrs Dodds' department said construction of 5,000 houses and 1,500 apartments had been stopped by the lock down.
It added: "It may take weeks or months for businesses to restart due to complex supply chains."