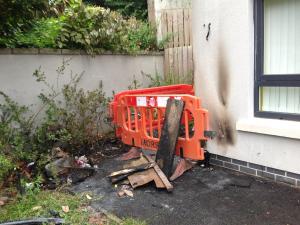 Q Radio News
Residents in a north Belfast housing estate say it's a miracle no-one was killed in an arson attack on a house early yesterday.
A woman and a baby boy escaped injury during the incident at Ballysillan Avenue just after six o'clock in morning.
A fire started in the garden spread to the property, damaging a nearby electric box and gable wall.
Neighbours alerted the woman and she fled with her young son.
This local man says the attack was outrageous.