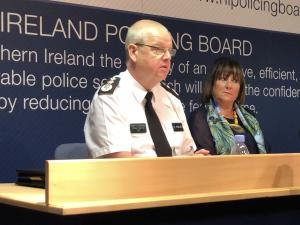 Chief Constable Simon Byrne
By Michael McHugh, PA
The Brexit finishing line is approaching quickly with outstanding funding issues remaining, the PSNI chief constable has warned.
Extra officers are to be deployed to the border area, and to policing of roads and hauliers.
Senior members of the force said they enjoyed close relations with the Garda but that there had been some "political sensitivities" around direct negotiations and transfer of information.
Simon Byrne said: "We are still three months out from the finish line.
"All we know is that finish line is coming quickly and there are details to tidy up."
The EU withdrawal transition period ends in less than 100 days, with negotiations between London and Brussels continuing.
A senior officer said the PSNI enjoyed close relations with the Garda and had influenced the UK-wide policing structure's engagements around the EU withdrawal which related to the Republic.
Assistant chief constable Mark McEwan said: "There have been certain issues around clarity and some political sensitivities around direct negotiations, around our ongoing transfer of information and other matters in the justice and home affairs side of things.
"Those conversations have stepped up, we have very strong relationships."
Mr Byrne said extra funding was still needed for Brexit.
Nearly 200 of the new officers recruited for neighbourhood duties have been earmarked for border areas, he said.
"Criminals will exploit any gaps, in the opportunity to raise money – differences in tariffs, differences in the Common Travel Area – we are alert to them, they could be exploited," Mr Byrne added.
He told Stormont's justice committee: "We have focused more effort on the haulage industry and are proposing to invest different operational teams to see can we step up in relation to policing of hauliers and increasing the policing of the road network to make sure we learn some of the lessons of the last 12 months, and where we can use intelligence to intercept, interdict and put criminals on the back foot."