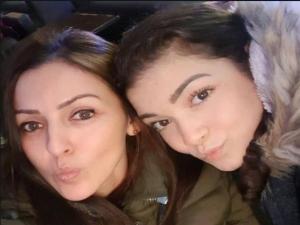 Q Radio news
Police have released the names of the woman and her daughter found dead at a flat in Newry.
Giselle Marimon-Herrera, 37, from Colombia, and her 15 -year -old daughter Allison were found dead Yesterday.
A man in his 30's was also found dead but the PSNI say they have yet to identify him.
It is understood they died in a violent way and one line of inquiry is a double murder and suicide. It is also understood that the three were known to each other.
Officers were called by a concerned member of a family worried they had not been in contact with a family member for several days.
Police forced entry to the building and found the bodies inside.
Local representatives have said at least two of the victims may be foreign.
Flowers carried by members of an emotional family arrived at the scene on Thursday evening.
Police Service of Northern Ireland (PSNI) Detective Superintendent Jason Murphy said: "I do not believe that anybody else was involved in the deaths of those three individuals and I am not currently seeking anybody else in connection with their deaths."
Mr. Brown, Principal of Newry High School said:
"The entire Newry High School community is deeply shocked and saddened to learn of the passing of our Year 11 pupil Allison.
Allison was a talented, kind, courteous and well-mannered pupil with a beautiful smile. Both staff and pupils are profoundly saddened by her death and she will be remembered with great affection by her fellow pupils and staff alike.
Our hearts go out to Allison's family circle; they are foremost in our thoughts and prayers at this sad time."