Scene of the tragedy, Levaghery Close, Portadown.
Q Radio News
Police are investigating the circumstances surrounding the sudden death of a man in his 80s at a house in Portadown on Wednesday evening.
His body was found at Levaghery Close off the Gilford Road.
The man's wife, also believed to be in her 80s, has been taken to hospital for treatment.
After the alarm was raised by a caller to the house, emergency services rushed to the scene with the air ambulance landing in the car park of the nearby Portadown Free Presbyterian Church.

The PSNI says a post mortem will be carried out in due course.
Neighbours say they are shocked and devastated by the dramatic chain of events in the quiet residential area.
Eleanor and Errol Lappin have lived next door for 25 years...
Details are slowly emerging about the tragic circumstances ...
The pensioner and his wife had one son who lives overseas ...
-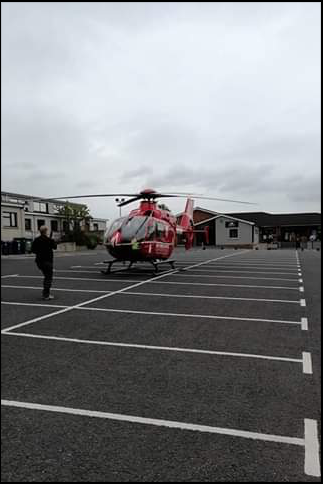 Air ambulance lands at nearby Free Presbyterian Church.
Picture: Cllr. Margaret Tinsley
🎥 VIDEO Tributes after death of man in his 80s in Portadown. Prayers for his wife who was rushed to hospital. "Lovely, lovely people, we'll never get neighbours like them again." The latest on air on the hour. pic.twitter.com/HedmAwkvmL

— Q Radio News (@qnewsdesk) June 13, 2019
-
-