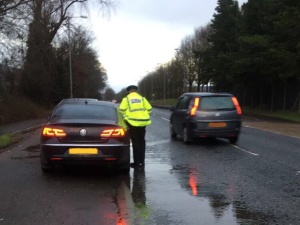 by Gráinne Connolly
The PSNI Chief Constable says people should expect a different attitude from officers over the next few days, as they ramp up enforcement to tackle COVID-19.
Addressing the executive's daily press conference Simon Byrne said there will be more patrols and checkpoints set up over Easter.
The police Chief said while most people were heeding the official advice to stay at home and only make essential trips out, some haven't been complying.
He confirmed police have already issued 100 community resolution notices, directing people to behave differently.
In order to prevent the spread of the virus and to prevent people from making unnecessary trips over the Easter break, the Chief Constable said they'll be stepping up patrols at key holiday spots.
Popular car parks and sightseeing locations will also be monitored.
Mr Byrne said: "This is a health crisis, it is not a holiday.
"This battle against the virus is a marathon and not a sprint.
"From tomorrow we will be stepping up again, more police patrols and checkpoints on roads going to key resorts to talk to motorists and ask them where they are travelling."
Chief Byrne said the public will be stopped on roads and asked where they travelling and if they cannot give an acceptable reason for being out of the house, drivers will be told to turn back.
Those who don't comply can also face a fine.
The police chief also said while exercise is an important part of people's day, it must be done wisely.
"Start your exercise at the front door. Stay home.
"You are not stuck in the house, you are saving lives by being inside."
It also emerged today at a Stormont Committee, around a tenth of police ranks are unavailable for work due to the impact of Covid-19 and recruit training has been fast-tracked.
Meanwhile, First Minister Arlene Foster said this Easter will be one like no other and said by staying at home as much as they could, everybody could play their part in limiting the impact of Covid-19.
She added: "We cannot afford to relax our guard, especially now.
"Easter 2020 is going to be like no other."
Deputy First Minister Michelle O'Neill said testing and isolation were key to success in defeating the virus.
"There has been progress made, it is nowhere near where it needs to be but it is moving in the right direction," she said.