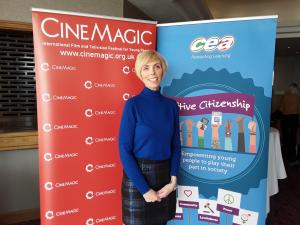 Laura McCurdy from Cinemagic at today's event in Belfast
by Stewart Robson
A 14-year-old girl has appealed to her peers in north Belfast to stop gathering for organised fights.
Naomi Burns lives in the north of the city and says young people should end the disorder immediately.
Youths have been involved in altercations over the last number of weeks, most recently at an interface last night.
Now, aspiring actor Naomi, who stars in a new short movie focusing on how a teenage boy called Jack steps away from anti-social behaviour, hopes the message of the film will appeal people her age.
'A Stone's Throw', written by Maire Campbell, was produced by Cinemagic and exam board CCEA with the PSNI and the Northern Ireland Ambulance Service also involved.
A major theme throughout the piece is the potential consequences that can be created by getting involved in anti-social behaviour.
Cinemagic's Laura McCurdy says young people who find themselves caught up in such situations, have a way out.
Mark Cavanagh from the PSNI says the organisation were delighted to be part of the project which involved promising young actors from Northern Ireland.
You can watch 'A Stone's Throw' by following this link: https://bit.ly/2HgtDLB