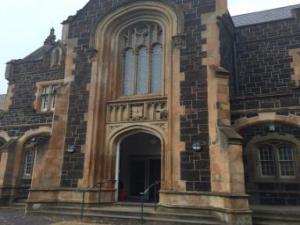 Q Radio news
Three men have been arrested in relation to a display of what's been described as "racist slogans" at a recent fixture between Coleraine and Larne.
The two sides met in the quarter finals of the Irish Cup on Friday 1 March, which Coleraine went on to win.
Speaking to Q Radio this morning a spokesperson for the PSNI said 'Ten men have been charged with offences to appear at Ballymena Magistrates' Court on April 4.
"Three of the men aged 19, 26 and 27 have been charged with disorderly behaviour and displaying written material to stir up hatred or arouse fear.
"The remaining seven men, two who are aged 20 and the others aged 21, 22, 23, 25 and 33, are charged with disorderly behaviour."
All ten men are due to appear before Ballymena Magistrates' Court on April 4.
In a statement last week a spokesperson for Coleraine FC said: "(The club) has always prided itself on being a community club and welcoming to all in our community.
"The club enjoys support from all sections of the community, from differing faiths and ethnicity.
"We totally condemn the behaviour of a very small minority of persons at the game on Friday Night at Larne FC.
"Their behaviour, actions and display of racist slogans is not reflective of Coleraine FC or the vast majority of Bannsiders, who displayed great support for the club and added to the spectacle at the ground and on TV."