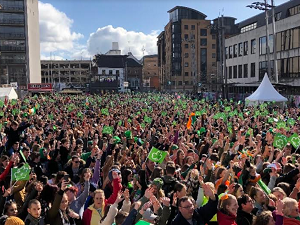 Q Newsdesk
People across the world have been celebrating St Patrick's Day today.
More than more than 430 iconic landmarks across 54 countries have been lit up in green as part of Tourism Ireland's Global Greening campaign.
Among them is the Empire State Building, the Burj Khalifa, and The Great Wall of China.
How amazing does the @CuttySark in Greenwich look - illuminated in green for #StPatricksDay pic.twitter.com/G6pA5KbQdA

— Tourism Ireland (@TourismIreland) 17 March 2019
Back at home thousands of people have attended festivities across the province - with parades in Derry-Londonderry, Downpatrick, and Belfast, to name a few:
The party is in full swing here in the Guildhall #Derry this afternoon for the St Patrick's Day celebrations pic.twitter.com/fI2cs5Darz

— Leona O'Neill (@LeonaONeill1) 17 March 2019
St Patrick himself had a great day in #Derry today for the big parade. He said he prayed hard for sunshine. Happy St Patrick's Day! pic.twitter.com/ds4YY4MWDu

— Leona O'Neill (@LeonaONeill1) 17 March 2019
In Belfast a special concert has been taking place at Custom House Square, with The Vengaboys, The Whistlin' Donkeys, as well as Irish dancers 'Fusion Fighters'.
The atmosphere is starting to build for this years St Patrick's Day Carnival Parade. Join us in the celebrations departing from Belfast City Hall at 12.30 today ☘️ #BelfastStPats pic.twitter.com/WKlQDO3JGJ

— goQradio (@goQradio) 17 March 2019
Mayor Deirdre Hargey has been telling Q Radio's Gareth Stewart about her highlights of the day:
Meanwhile police have advised people out celebrating to drink responsibly.
In Belfast much of the police focus has been on the Holylands area.
The student area's seen widespread anti-social behaviour in recent years, with up to 17 arrests made last year.
Both Queen's and Ulster University say students who step out of line will face serious disciplinary procedures.

If you're celebrating today please stay safe. Drink responsibly and stay with your friends. #StPatricksDay#StaySafe pic.twitter.com/c6DkPY4iEl

— PSNI (@PoliceServiceNI) 17 March 2019