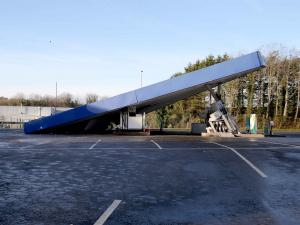 Pic by McAuley Multimedia Ltd
Q Radio news
A petrol station's forecourt roof has been torn down in one of a series of ATM raids in Northern Ireland.
In the other attacks, a cash machine was stolen from a health centre on the outskirts of Belfast and an attempt was made to steal one from Belfast City Hospital.
Extensive damage was caused during the raid on the petrol station in Ballynahinch, Co Down, at around 5.30am on Monday.
The thieves used a bulldozer in a failed bid to rip the ATM from the wall of Carlisles filling station and convenience store in Belfast Road.
🎥 Here's the digger used in an attempted ATM theft at Carlisle Fuels in Ballynahinch. If you listen to the video, you can hear the digger is still running after being abandoned this morning. pic.twitter.com/Fucyc122Yj

— Q Radio News (@qnewsdesk) November 18, 2019


A silver-coloured Volkswagen Passat car with a trailer attached was also reportedly at the scene during the attempted robbery.
A car matching that description was later found on fire at Queen's Park in Saintfield.
Police described the raid as a "brazen and despicable attack".
The road was closed on Monday morning, causing major disruption to rush-hour traffic.
In regard to the other incidents, police said an ATM was stolen at some point over weekend from inside a health centre at Knockbracken Healthcare Park in Saintfield Road, close to Belfast.
Police said it was too early to establish whether the health centre and petrol station attacks were linked.
Meanwhile, on Saturday night, thieves tried but failed to steal a cash machine from Belfast City Hospital.
PSNI Detective Inspector Richard Thornton said: "ATM theft and attempted theft is not a victimless crime and these attacks cause untold loss and disruption to people and businesses, many of whom depend on their local ATM provision for access to cash.
"I want to take this opportunity to urge people to continue to be vigilant, and report any suspicious activity they see in their area.
"If your suspicions are aroused phone police immediately. Time is of the essence in catching these criminals. No matter how insignificant you think it is, your phone call to us could be key to catching the criminals responsible."
The attacks are the latest in a series of ATM raids in Northern Ireland this year.
The head of Retail NI has called on shop owners to be vigilant following a spate of ATM raids over the weekend.

Glyn Roberts branded those responsible for two attacks on hospitals and one on a petrol station in Ballynahinch as "an enthusiastic band of amateurs". pic.twitter.com/dEJLVQlpJX

— Brett Campbell (@BrettcOfficial) November 18, 2019
Industry organisation Retail NI condemned the latest attacks.
Chief executive Glyn Roberts said: "Words fail to describe my anger at this disgraceful attempted ATM robbery on one of our members.
"This has caused extensive damage to one of Ballynahinch's largest retailers in the run-up to Christmas.
"This is an independent retailer, who provides an invaluable service to the local community, awakened from his sleep to be told his business is smashed up.
"It is also a new low for these robbers to attack health centres to steal ATMs.
"We would urge all businesses and organisations who have external ATMs to be vigilant and urge members of the public with any information to contact the PSNI."
Carlisle's shop and fuel station in Ballynahinch has been badly damaged during an overnight attempt to raid an ATM machine. It's believed a digger was stolen from a nearby quarry. pic.twitter.com/U3k2hGcv8s

— Q Radio News (@qnewsdesk) November 18, 2019


Q Radio reporter Gráinne Connolly has been speaking Donna Carlisle, one of the owners of the petrol station.
She says the two families involved in the business have been left "devastated".
Her husband David received an emergency call this morning in relation to the incident and he confronted the suspects when he arrived at the scene.
Mrs Carlisle says the incident has also left a number of people out of work and it's not known yet when they will return.