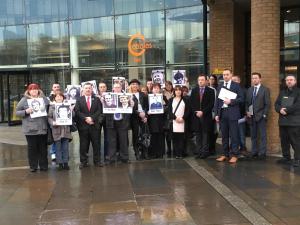 Relatives of those killed in the 1971 Ballymurphy Massacre
By David Hunter
Families of those killed in the 1971 Ballymurphy Massacre are to launch legal proceedings against the Ministry of Defence.
Relatives of all eleven victims will travel to London tomorrow to hand deliver a letter informing the MOD of their plans.
It's the latest phase of a long running campaign by the families to have access to Government files related to the case.
They say they want access to key documents naming the soldiers involved so an inquest can be properly resourced and concluded.
John Teggart's father, Danny, was killed in 1971 Ballymurphy Massacre. 11 Victim's Relatives are taking action against the MoD @qnewsdesk pic.twitter.com/toK1KgHJEA

— David Hunter (@davidhunter7) May 22, 2017
The victims were killed by a British Army Unit over three days in West Belfast in one of the most notorious cases linked to the troubles.
Campaigners say this is the first time they've launched such action after almost 46 years of calling for 'truth and justice'.
The families say they've had little response despite calls on the British Government and various Unionist Leaders at Stormont.
Nationalist parties have supported plans to release a multi million pound funding package requested by a senior judge to hear all legacy related inquests within five years.
John Teggart lost his father, Danny in the Ballymurphy shootings: "Unionists can't say what we're doing is unreasonable because we're actually going through with the recommendation of the former DUP Leader, Peter Robinson" he said.
"We met him at the party headquarters a few years back and he said if we wanted answers we should consider a civil case against the Government. Now, that's what were doing."
John says the families will have a clear message for Prime Minister Theresa May when they meet tomorrow.
"They have 14 days to reply, and we hope the MOD will deal with this swiftly and co-operate fully as they have said they will in the past.
"But, they haven't been forthcoming with files so we will hope they'll be forthcoming with our legal team.
"The MOD and the Government have put blockages up from day one. Now they need to be truthful and honest and come out to deal with the families they way they should have in 1971, then we could have avoided all these years of campaigning."