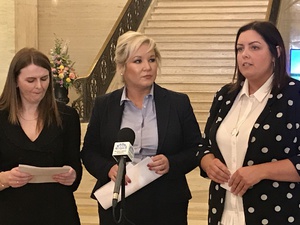 By Rebecca Black, PA
Plans have been announced to extend welfare mitigations to the bedroom tax.
Benefits claimants in Northern Ireland were described as facing a "cliff edge" as the previous set of mitigations, including a subsidy to the bedroom tax, to ease the impact of welfare reform were due to run out in March.
An estimated 38,000 households are in receipt of supplementary payments which protect them from the bedroom tax.
Communities Minister Deirdre Hargey said she will be introducing new legislation to extend mitigations to the bedroom tax in the coming weeks, and said the proposal would cost £23 million per annum.
She said she will next be looking at regulations around the benefit cap.
"We have a responsibility to protect the poorest and most vulnerable in society," she said.
"I am pleased to announce that today the Executive agreed to my recommendation, in line with New Decade, New Approach, for the urgent extension of the bedroom tax mitigation beyond March 2020," she said.
"In the coming weeks I will introduce new legislation to extend this essential mitigation, which will continue to safeguard more than 38,000 of the most vulnerable households in our society from harsh Tory welfare cuts."
The Department for Communities previously said the mitigation scheme could not be extended without an Assembly.
The measures, to allow claimants to have their benefits topped up from a separate fund, had been passed shortly before the collapse of Stormont in January 2017.
The extension of welfare mitigations had been agreed in the New Decade, New Approach deal.
Green Party NI leader Clare Bailey welcomed the move.
"It will come as a relief for many people who have had the bedroom tax threat hanging over them for some time," she said.
"The bedroom tax is a cruel Tory policy that has caused serious hardship to people in England and Wales and was set to hit Northern Ireland households even harder.
"I want to see the bedroom tax scrapped altogether but at this time it's important to recognise the efforts of the sector in lobbying for the extension of these mitigations.
"There are a number of other welfare mitigations due to come to an end at the end of March - I look forward to further action from the minister to address this."