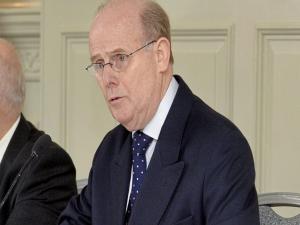 By PA reporter and Q Radio News
The chairman of Northern Ireland's historical abuse inquiry Sir Anthony Hart has died, it has been confirmed.
Sir Anthony chaired the Historical Institutional Abuse (HIA) which examined children's homes run by religious orders, charities and the state.
He concluded that there had been widespread abuse and mistreatment in some Northern Ireland children's homes between 1922 and 1995.
He recommended a compensation scheme for abuse victims.
Margaret McGuckan from the survivor's group SAVIA says Sir Anthony's death comes as a huge shock:
Marty Adams of the Survivors Together group, who was abused at Rathgael Training School in Bangor, said he is "very saddened" at the news of Sir Anthony's sudden death.
"Victims of historical abuse are very thankful and grateful for the help and support he gave to victims during his public inquiry," he said.
"It was Sir Anthony who believed in victims and it was Sir Anthony who delivered the truth when others failed.
"We offer our sincere condolences to his family circle at this sad time."
Church of Ireland Bishop of Down and Dromore, Reverend Harold Miller said: "It was a pleasure and privilege to know Tony.
"He served the Lord, the church and the community with faithfulness and integrity, with humility and firmness.
"He will be greatly missed.
"Our comfort is in knowing that he is in the closer presence of his Lord."
Sir Anthony, who was known as Tony, was described as a "strong but gentle Christian believer" who served a number of roles at St Mark's Dundela.
He was also Chancellor of the Diocese of Down and Dromore, and assessor at the Diocesan Synod last month.