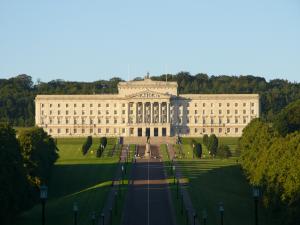 By Michael McHugh and David Young
The DUP and Sinn Fein are at loggerheads over who to blame for public spending cuts in Northern Ireland.
Senior teachers have warned jobs could be lost after Northern Ireland Secretary James Brokenshire published indicative figures for a budget he would pass if Stormont's warring parties do not reach a deal.
The Democratic Unionists accused republicans of collapsing devolved powersharing in January to avoid making unpopular decisions.
Sinn Fein's leader at Stormont Michelle O'Neill lambasted the Tories for "savage" spending reductions and accepted difficult choices lay ahead.
Outgoing East Antrim DUP MP Sammy Wilson said: "Sinn Fein brought down the Assembly, not over Renewable Heat Incentive (RHI), but due to their desire to avoid making any unpopular decisions.
"That makes them not fit for government then, and if they continue that mind-set, not likely to want to be in government now."
He accused former Sinn Fein finance minister Mairtin O Muilleoir of dodging decisions last year and never presenting a draft budget to his Stormont counterparts.
Politicians will decide on Thursday whether to halt talks to restore powersharing until the General Election is over in June.
Mr Brokenshire said he had taken advice on his draft budget proposal from civil servants in Northern Ireland and sought to reflect the priorities of the local parties before the Assembly was dissolved in January.
It includes nearly £42 million of unallocated funding for day to day spending.
A proposed 2.5% cut would equate to a loss of £50 million for education.
Mrs O'Neill blamed "big difficult" decisions to come on the Tory government deciding to attack public services, including the NHS and education.
"We will be very up front about it, the cuts to public services as a result of the Tories are going to be extremely difficult, but there's a pie and whenever departments are allocated their funding it is up to individual ministers to take decisions."
She added: "The Tory cuts to public services have been ongoing, consistent and savage since 2010 when they came into power - so we had difficult decisions and will always have difficult decisions to contend with."