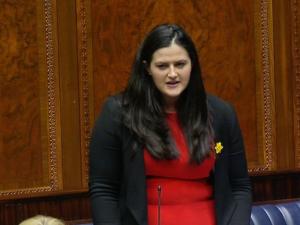 By Deborah McAleese, Press Association
Former Stormont justice minister Claire Sugden has hit out at the warring political parties for forcing her to break a number of promises to crime victims.
Ms Sugden said several important justice projects, including plans to tackle the scourge of paramilitarism and domestic abuse, have been left to languish because Sinn Fein and the DUP cannot reach an agreement to restart the powersharing executive.
"Many important plans have stalled while the main parties decide if they want to run the country or not. I have broken promises I made because of something out of my control. It is very frustrating," said the Independent Unionist MLA.
A major inter-agency plan to tackle paramilitarism across Northern Ireland is one of many projects to stall because of the political crisis.
The £50 million paramilitary action plan was published in July 2016. It was the executive's response to the recommendations of an independent panel's report.
The plan included a range of educational and community schemes aimed at deterring young people who are at risk of involvement in paramilitarism.
Ms Sugden said: "The (paramilitary action plan) was only ever going to be effective alongside a programme for government.
"It was about trying to strengthen communities and for people to take back ownership of their communities.
"Everything is just stalling while the main parties decide if they want to run the country or not.
"But the problems that exist in communities around paramilitarism continue, that fear continues. That is the sad thing about this."
She added that she has been forced to break a promise made to victims of domestic abuse.
Ms Sugden had planned to introduce a new domestic abuse offence of coercive and controlling behaviour to bring the north into line with Britain.
The first stage of the new legislation, which was introduced in England and Wales in December 2015, was due to have been on the north's statute books by October 2016.
"I made a promise to bring in a new offence of coercive control. That is a promise I have broken because of something out of my control," said Ms Sugden.
In addition, as hundreds of survivors of historical institutional abuse have been left without promised financial payments, Ms Sugden said the government should be "ashamed" for failing them.
The current Stormont impasse means that the findings and recommendations of a four-year inquiry into state and church abuse have still not been presented to the assembly.
"When the Historical Institutional Abuse Inquiry report was published in January, that was in the middle of all the political fallout and their voices as victims have been lost," said Ms Sugden.
She added: "To me, the biggest failure of our government is that we are letting people down, victims down.
"I think we should be ashamed we haven't in some way gotten around to acknowledging or addressing their needs.
"That is what the government is there for - they are not there for posturing or playing political games."