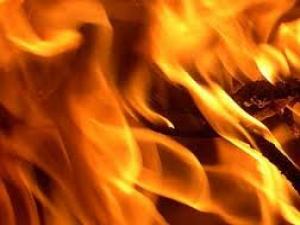 By Leona O'Neill
A woman in her 60's has been treated for shock following an arson attack in Derry Londonderry.
Bins were set alight outside the property on Greenhaw Avenue at around 8.30 last night.
The blaze then spread to an oil tank causing substantial damage to the house and others nearby.
No-one was injured in the incident.
Fire Service Station Commander Clive Lowry told QRadio that there were major fears that the fire could have spread:
Fire service are still at the scene of a fire in a house on the Racecourse Road in #Derry. Several fire crews tackled the blaze at an oil tank in Greenhaw Cottages. The family were evacuated safely from the home and there are no reports of any injuries pic.twitter.com/btMDtXGkZd

— Leona O'Neill (@LeonaONeill1) 9 April 2019
Detectives think the attack could be linked to damage caused to a car parked in the Greenhaw Avenue area between 9.30 and 10.30pm.
Fire Service of Northern Ireland Station Commander Clive Lowry at the scene of tonight's blaze on the Racecourse Road #Derry. No one was injured when an oil tank caught fire. Several homes were evacuated as five fire crews tackled the blaze pic.twitter.com/zmZNwwcde7

— Leona O'Neill (@LeonaONeill1) 9 April 2019