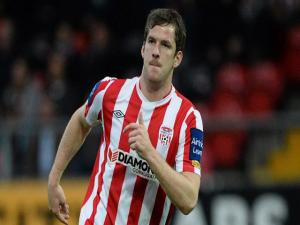 Ryan McBride passed away at his Brandywell home in March
By Richard O'Reilly
The family of Ryan McBride has set up a foundation in memory of the former Derry City FC captain.
Ryan passed away suddenly at his Brandywell home in March. The family thanked the various people and groups who raised funds in memory of Ryan, however said they would be uncomfortable using the funds for their own means.
So Ryan's family, partner, team-mate and coach have come together to to set up a foundation in Ryan's name.
Ryan came came through junior football at age 19 and went on to play 177 times for Derry City, captaining his beloved Candystripes on 57 occasions.
The family say the foundation is to help other young players follow in Ryan's footsteps and allow another local person's dreams become a reality.
The foundation was launched at the Everglades Hotel in Derry-Londonderry on Wednesday evening. Ryan's Sister Caitlin McBride was at the Everglades to outline the cross-community project.
Caitlin McBride speaking at the launch:
"We're setting up the foundation, obviously to remember Ryan" said Caitlin " football was a big part of his life. In Conjunction with Derry City FC we're going to work with the community to help young people to develop in the sport".
Family and Coaching staff at the launch of the Foundation
One of the aims of the foundation is to nurture young talent in the north west area. And former Candystriper Liam Coyle, who was also at the Everglades praised Ryan's family for setting up the foundation.
Liam Coyle speaking at the launch:
"I don't think Ryan will ever be forgotten, but it's to keep his name alive" said Liam "I think the McBride family has shown great strength to put this together. It's only been a few weeks and they have the courage to put this in place".
An Emotional @derrycityfc manager Kenny Shields reads a poem for Captain Ryan McBride who died on Sunday aged 27 #Candystripe #DCFC pic.twitter.com/v3xetk3iGV

— Q Radio News (@qnewsdesk) March 23, 2017
An emotional Kenny Shiels reads a poem at Ryan McBride's funeral
Derry City FC manager Kenny Shiels says the foundation is a fitting testament to Ryan's legacy. He says the word 'inspiration' epitomises everything Ryan was about.
Kenny Shiels speaking at the launch:
"A young lad, born and bred in the Brandywell, Ryan had a dream to play for Derry City Football Club" said Kenny " not only did he achieve that, but he became captain of the club".
"If you could put yourself in his shoes, it must have been a great honour to captain his local club, it's like a fairy tale." Kenny continued "Ryan came through late by himself and entering his 28th year he was still improving, which is a fantastic legacy to leave behind for young players".
How the Foundation will achieve its aims has yet to be finalised, however over the next few months organisers will look to identify the areas where they can help young people in the north west.
Initially the foundation will look to provide kits and equipment to local clubs, while also working with Derry City FC to provide coaching and mentoring to players on a cross community basis.
Eventually they hope to set up a 'Ryan McBride Scholarship' for one young player- the details of which are still a work in progress.
The foundation has been set up with the full support of the McBride family and Ryan's partner Mairead.
The family says they hope they can do something Ryan would be proud of, involving the people who Ryan loved and respected.
Further details of the foundation will be posted on the Foundation's website and email enquiries can be made to info@mcbride5foundation.com