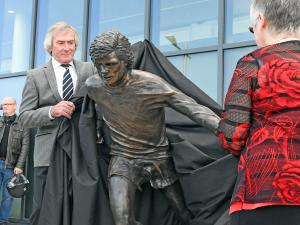 Football legend Pat Jennings unveiling George Best statue, alongside George's sister Barbara
by Gráinne Connolly
A life sized bronzed statue has been unveiled in Belfast of Northern Ireland and Manchester United legend George Best.
It's on display outside the Olympia Leisure Centre, on what would have been his 73rd birthday.
An unveiling ceremony was held earlier today and the statue was gifted to Belfast City Council.
It was created by Belfast sculptor Tony Currie from the art group 'Lecale Bronze' and was funded by fans through public donation.
It captures Best's famed movement and balance as he dribbles the ball.
🎥Football legend Pat Jennings, George Best's sister Barbara and superfan Robert have unveiled a bronzed statue of Best on what would have been his 73rd birthday. pic.twitter.com/qUnzYzCf6i

— Q Radio News (@qnewsdesk) May 22, 2019
George's sister Barbara, who unveiled the statue alongside football legend Pat Jennings says there has been a great response to the monument.
She told Q Radio, "I think it's brilliant. Our George, I just loved him to bits.
"George's legacy will always live on for years to come.
"Our Belfast boy and he's back where he should be."
Former Northern Ireland goalkeeper Pat Jennings joined the national team on the same night as Best.
He described George as one of the best footballers in the world, the Ronald and Messi of his day.
🎥 NI Football legend Pat Jennings pays tribute to George Best, describing him as one of the "best" like Ronaldo and Messi. Pat and George both played together and against each other over the years. pic.twitter.com/ET0zwIwRP4

— Q Radio News (@qnewsdesk) May 22, 2019
Meanwhile, Irish singer Brian Kennedy was among some of the dignatories there for the unveiling.
He sang 'You raise me up' at George Best's funeral.
Mr Kennedy paid tribute to him with a poem he wrote:
🎥 Irish singer Brian Kennedy paid tribute to George Best with a poem he wrote, before a bronzed statue of the footballer was unveiled. The Belfast man also sang at Best's funeral. pic.twitter.com/YmgfzvxuVW

— Q Radio News (@qnewsdesk) May 22, 2019