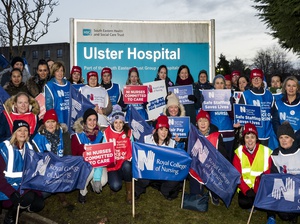 Royal College of Nursing union members took strike action in a dispute over pay and staffing levels
by PA reporter
Trade unions have accepted an offer from the Department of Health in Northern Ireland to end industrial action.
Health workers took to the picket line for a series of strikes in recent months, as well as observing work-to-rule actions in a dispute over pay parity and safe staffing levels.
Numerous attempts at talks between the unions and department officials ended without success.
A fresh offer was made in January following the resurrection of devolved government at Stormont, and the appointment of health minister Robin Swann.
On Monday most of the trade unions confirmed they have now accepted the offer, following consultation with their members, but cautioned it is the responsibility of the department to make sure promises are kept.
One union, Nipsa, is continuing with industrial action.
Unison members across the health and social services system have overwhelmingly voted to accept the proposed framework agreement on pay parity and safe staffing.

The announcement was made following a meeting with health officials in Castle Buildings. pic.twitter.com/F9MqrORzHj

— Q Radio News (@qnewsdesk) February 24, 2020
Anne Speed from Unison, speaking on behalf of the unions that have accepted the offer, said it had been a "very difficult period" for their members.
"It has been a very difficult period of industrial action for our members and that has not been without hardship, but they have given us the mandate to agree to these proposals by secret ballot," she said.
"It is now the responsibility of the Department of Health to ensure that the pay agreement is implemented swiftly."
She added: "Leaders must also ensure pressure must be exerted to take forward proposals on safe staffing levels as quickly as possible, to ease the significant pressure on staff, to fill those permanent vacancies that have occurred.
"We are trying our hardest to deliver with them and with the Department of Health, so this will be the big programme of work in the coming months."
Ms Speed said the unions expect the money to be in the bank for their members "very shortly", adding that when that happens pay matters will have been resolved for the next two years.
"On safe staffing, I think we have to see more detail in the delivery. We have to work as well with the department at developing that strategy so action on safe staffing will be put in cold storage for the moment," she said.
"Should there be any difficulties where we can't actually deliver, then we may find ourselves back at the negotiation table, negotiating on those issues.
"But, we're acting on good faith, so you could say with safe staffing - there is still a pathway to go."
Pat Cullen, director of the Royal College of Nursing in Northern Ireland, said it had been "unprecedented" for their members to go on strike, but they had been left with "no choice in order to protect patients".
"While RCN members have spoken clearly in accepting this offer, we are also clear that we need to see all of the measures that have been agreed by health minister Robin Swann implemented in full.
"Safe staffing was the central part of our dispute and for the sake of those who use the service, and those who work in it, we must get this right," she said.
"We recognise that it may take some time to resolve this crisis, but the sooner we begin, the sooner this will happen and we cannot afford to wait one more day.
"The minister has shown his full commitment in endorsing these proposals and we now need to see them delivered."
Mr Swann welcomed the announcement.
"My first objective on taking up the post of health minister was to secure a resolution to the industrial action and I am delighted that this has now been achieved," he said.
"This was made possible through important pay and staffing commitments which I was able to make with Executive-wide backing and I am grateful to my colleagues around the Executive table for this vital support.
"As I have repeatedly stated, our health service will need sustained investment year on year for the sake of patients and staff."