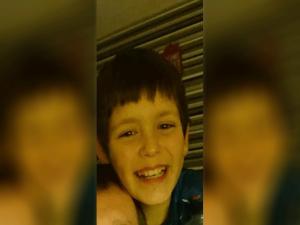 By Paul Higgins
An inquest into the tragic death of a 10-year-old boy who was mauled by the family dog opened today (thurs).
The Preliminary Hearing at Belfast Coroners Court into the death of Ryan Busa heard that the inquest will have evidence from the PSNI Major Investigation Team and expert vets.
Ryan, a pupil at Ashgrove Primary in Glengormley tragically died on 15 October 2017 as a result of injuries he sustained when he was mauled by the family pet, a three and a half year old German Shepard called Max, at his home in Queens Avenue.
In the aftermath of the horrific incident, his father Marek Busa was arrested and questioned for murder but has since been told by the PPS that he will not gave charges over his son's death.
Mr Busa was in court today (thurs) for the 20 minute preliminary hearing before Madam Coroner Suzanne Anderson.
Counsel for the coroner Mr Ronan Daly said he had already disclosed "a limited number of items" including the police "structured outline" of the case, some witness statements as well as the young boy's doctors notes.
He added however that as there had been a "significant police investigation into this tragic death," there will be a "very considerable bundle of material" still to be disseminated.
Mr Daly told Madam Coroner Anderson he had conducted "an initial sift" of some of the police files but would undertake to review more to consider their relevance to the inquest and its scope.
Seamus McIlroy, acting on behalf of Mr Busa highlighted that to date, the family had not yet received a copy of the post mitten report into Ryan's death but the coroner said that "could be provided immediately after this hearing."
Mr McIlroy told the coroner there will "probably" be items to be disclosed by Mr Busa, "potentially photos and videos of the dog and the family in and around the home," adding that anything which is to be handed over will be done in the next two weeks.
Mr Daly said there may be evidence from "veterinarian personnel and experts" and Mr McIlroy said he may also be engaging an expert but there remained outstanding issues with legal aid.
Adjourning the case to 4 June, Coroner Anderson asked one of her counsel to write to the legal aid authorities "to let them know that the matter is up and running and it would be important to hear from them about any progress."