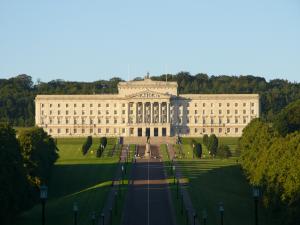 By David Young, Press Association
Plans for a pro-Remain electoral pact in Northern Ireland have been left in disarray after parties failed to strike a deal.
SDLP leader Colum Eastwood said the mooted alliance looked doomed after the Green Party announced it would not take part.
With the Alliance Party refusing to countenance such a deal from the outset, that left the SDLP and Sinn Fein as the only potential partners.
Having already said he would not be part of a pact that only involved two parties, Mr Eastwood said the chances of a breakthrough were "slim".
He suggested the only route left was if independent, non-aligned candidates emerged who could attract the backing of pro-Remain politicians.
"Following discussions with parties today, it now seems that there is little prospect of political unity against pro-Brexit MPs, despite our best efforts," he said.
He added: "The SDLP will continue to explore how we can maximise the mandate delivered by the referendum and return the strongest possible team of pro-Europe MPs."
Sinn Fein's Stormont leader Michelle O'Neill urged a rethink.
"I am disappointed that parties which are opposed to Brexit and Tory cuts and which are pro-equality have not been able to agree a progressive alliance to contest the Westminster election," she said.
"This will almost certainly gift seats to some of the most pro-Brexit hardliners.
"I would urge those parties to reconsider.
"Sinn Fein remains committed to maximising the anti-Brexit vote in this election."
Earlier, the Green Party said it would not enter a pact.
Leader Steven Agnew said: "The Green Party has a clear vision for a progressive society based on stability and sustainability. We cannot enter into a pact with parties and individual candidates that fall short of that."
The Greens also held talks with the Ulster Unionists, but the discussions were less likely to result in an electoral deal. While the UUP campaigned for Remain last year, if it was to strike a pact it would probably be with the Brexit-supporting Democratic Unionists - its rationale being the General Election is more about supporting the Union than re-fighting the EU referendum.
UUP leader Robin Swann and DUP chief Arlene Foster have held discussions about a potential link-up - following the parties' four-constituency deal in 2015 - but there has yet to be a meeting of minds over this year's snap poll.
Green votes could have proved pivotal in key battlegrounds such as east and south Belfast if a pact had been struck.
Mr Agnew said the SDLP decision to reselect sitting South Belfast MP Alasdair McDonnell as its candidate was a key factor in the party's decision.
He claimed Green Assembly member Claire Bailey would have been a better unity candidate for Remainers and made clear Mr McDonnell's pro-life stance on abortion meant the Greens could not support him.
Mr Agnew said Sinn Fein's insistence that it would continue its abstentionist policy at Westminster ruled out a deal with the republican party.
"It is impossible to oppose hard Brexit at every turn without taking seats in Parliament," he said.