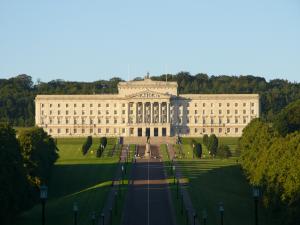 By PA reporters
Emergency powers to give Stormont's rowing parties extra time to strike a powersharing deal have been backed by MPs, amid fears of direct rule returning.
Northern Ireland Secretary James Brokenshire brought the measures before the Commons in a bid to create a three-week window after the June 8 General Election to enable an agreement to be reached.
They also allow Westminster to set and collect rates to fund local council services as well as pave the way for future legislation enabling MPs to set a budget in Northern Ireland if no executive is formed after the latest round of talks.
Democratic Unionist Ian Paisley (North Antrim) was among those who warned that the Northern Ireland (Ministerial Appointments and Regional Rates) Bill has "tipped the scales in favour" of direct rule.
Mr Brokenshire earlier denied the draft legislation represents a return to direct rule, saying it was up to the parties in Northern Ireland to sort out their differences.
He told MPs: "My point remains that that does not need to be the outcome.
"The outcome that we want to see is an executive being formed, the outcome that we want to see is devolved government being put into place, making decisions within Northern Ireland for the people of Northern Ireland."
MPs gave the Bill an unopposed third reading and it will undergo scrutiny by peers before it can become law.
Shadow Northern Ireland secretary Dave Anderson was criticised during the debate on the Bill after he said British soldiers and the security services who served during the Troubles in Northern Ireland should face investigations if they did not act correctly.
The Labour frontbencher, who is not seeking re-election, went against pleas from Conservative and DUP MPs who said the police and soldiers who served in Northern Ireland should not face fresh probes into their conduct.
There has been concern over British veterans being investigated for their conduct in Northern Ireland, over incidents that happened up to 40 years ago.
Tory James Heappey (Wells) asked Mr Anderson: "I wonder if you might join me in confirming your belief that the British Army should not be subject to further investigations for the actions that they took during the Troubles?
"Would you confirm that your party under its current leadership, that they have their loyalty firmly with the British Army, not the IRA?"
Mr Anderson replied: "I think it's quite clear from my point of view that if people in uniform, if they did not act correctly, then I'm sorry, I can't agree that they shouldn't be brought to book.
"Because what signal are we sending out, that it's all right to act out of order?
"We expect the highest standards from our great people in uniform.
"In terms of his comments about the leadership, it's very, very clear that my party is committed to our armed forces and not to any terrorist organisation."
The DUP's Sammy Wilson (East Antrim) said incidents where the police or Army were involved should not be treated as murder.
He added: "That's the inequality and what causes the anger that we have seen in so many families, that every killing by terrorists was no doubt a murder, it was illegal.
"But in many occasions, those incidents in which soldiers and policemen were involved were in protection of life and property, and therefore should not be treated by the authorities as if there was something illegal involved in the incident."
Mr Anderson said: "I'm very, very clear that the vast majority of the things that were done by our forces were not murder.
"But there's a process that has fallen apart, a process of investigation that we need to put back together again, that we need to get to the bottom of.
"If there are some cases that could be construed - and this is quite clearly in the agreements that people have signed up to in the past to try and make this work - then we've got to get to the root of them and we've got to get them aired out in public."