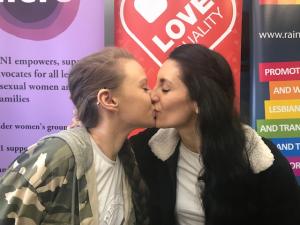 Robyn Peoples and Sharni Edwards who plan to marry next Tuesday
By Q Radio news
A same sex couple believed to be the first who will tie the knot under marriage reforms in Northern IReland say it's an historic moment.
New laws mean 27 year old Sharni Edwards and Robyn Peoples who's 26 will be able to get married from next week and they plan on wasting no time.
A ceremony will take place in Carrickfergus on February the 11th.
Robyn and Sharni have been speaking to Q Radio:
Northern Ireland's first official same sex marriage will take place next week.27 year old Sharni Edwards from Brighton and Robyn Peoples who's 26 and from Belfast plan to marry in Carrickfergus on Tuesday.#rainbowproject pic.twitter.com/ZRidSOKjnQ

— Q Radio News (@qnewsdesk) February 5, 2020
Until now we were the only part of the UK and Ireland where same sex couples could not get married.
Those already married can have their union legally recognised here.
Those who are in a civil partnership will NOT be able to convert it to a marriage at this stage though that's likely to change at this point this year.
What's believed to be Northern Ireland's first same sex marriage will take place next week. Belfast couple 27 year old Sharni Edwards and Robyn Peoples - who's 26 -plan to marry on Tuesday. pic.twitter.com/VvpcS6czX4

— Q Radio News (@qnewsdesk) February 5, 2020